War satire is directed by David Michôd.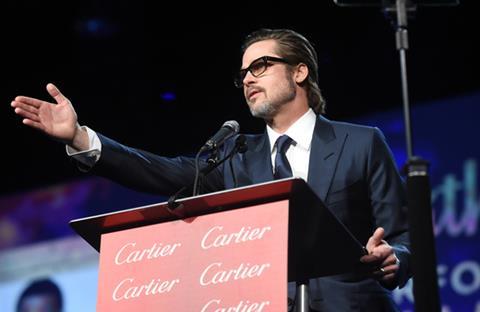 Brad Pitt's latest production, War Machine, has wrapped in the UAE after 22 days of filming.
The satirical comedy, produced by streaming giant Netflix and Pitt's production company, Plan B Entertainment, is inspired by bestseller The Operators: The Wild and Terrifying Inside Story of America's War in Afghanistan by late US journalist Michael Hastings.
The film, directed by David Michôd (Animal Kingdom, The Rover), stars Pitt as a brash US commander modelled on four-star General Stanley McChrystal.
The cast also includes Anthony Michael Hall, Will Poulter and Topher Grace.
The War Machine crew arrived in Abu Dhabi in August to set up the production office in advance of the UAE filming, which began in Abu Dhabi in October.
Streets around the Abu Dhabi Media compound were transformed in order to create a fictional US embassy in Kabul. The production also filmed at Abu Dhabi National Exhibition Centre (ADNEC), the Abu Dhabi New York Film Academy and in remote areas of the Abu Dhabi desert.
Noura Al Kaabi, CEO at twofour54, which facilitated the filming, said: "We were delighted to host Plan B Entertainment's War Machine in the UAE, facilitating the filming across 20 different locations."
Al Kaabi added that the military helped in securing shooting locations and provided support throughout the production.
The film included 500 extras representing more than 20 nationalities and the production gave the opportunity for seven young Emirati interns to work on the set of the film, the biggest number to ever work on a feature film in Abu Dhabi to date.
War Machine also benefited from the Abu Dhabi Film Commission's 30% cashback production rebate.
Netflix committed to a budget understood to be in the $70m range and will orchestrate a limited theatrical release alongside a worldwide digital launch in late 2016, by which time the company aims to have achieved its goal of streaming to around 200 countries.
Abu Dhabi has attracted a number of major film productions in recent years including Star Wars: The Force Awakens and Fast & Furious 7 as well as Indian features Bang Bang! and Baby.