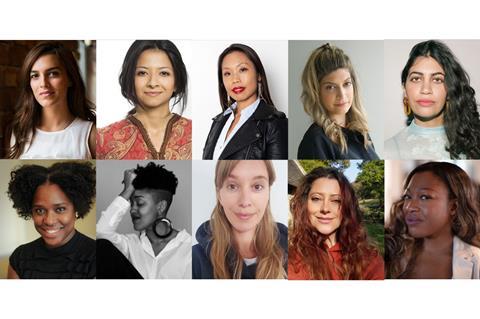 Breaking Through The Lens (BTTL), the year-round programme to promote projects by female and non-binary international filmmakers, has unveiled the 10 finalists in this year's virtual pitching event at the Marché.
They include: Dina Amer's Cain And Abel (Egypt-France-US) about two French-born Muslims caught on either side of the 2015 Charlie Hedbo attack; Nihaarika Negi's horror Feral (US) about the arrival of a shaman on a colonial estate in 1950s India; Tricia Lee's Idol (US), a musical biopic about the celebrated American Idol contestant William Hung; Celine Cotran's Layla In Dreamland (UK) about a 60-year-old Syrian refugee in Margate; and Farida Zahran's The Leftover Ladies (Egypt) in which a 60-something woman tries to leave her polygamous husband.
The selection includes: Tamika R. Guishard's Rhythm In Blues (US) about three foster siblings in New York; Sontenish Myers' sci-fi thriller Stampede (US) about a telekinetic slave girl in 1802 Georgia; Isla Ure's The Tides (UK), a drama about a carer and an Iraqi boy seeking asylum; Anita Doron's animated sci-fi The Truth About Monsters (Canada-India) in which an indigenous boy befriends stranded aliens; and Fisayo Olajide's Untitled Underground Railroad Ride (USA) about cyclists who follow the route taken by escaped slaves centuries earlier.
BTTL co-founder Daphne Schmon said, "Our team was truly blown away by the quality and originality of the submissions this year. There is a clear hunger for bold female and non-binary voices in our industry."
BTTL co-founder Emily Carlton added, "This is about finding films with strong artist merit, that are in a position to receive finance and go into production within the next year."
"This pioneering year-round programme seeks to be a resource for underserved filmmakers, one that is multicultural, intersectional and results-driven," said producer and primary sponsor Kathryn Moseley.
Tiffany Boyle, president of Ramo PC and a sponsor for the event, said, "As a female-run law firm, we have always supported the under-represented communities in film and television. We are thrilled to partner with Breaking Through The Lens to help those voices be heard and share their art and perspectives with the world."
The announcement comes on the heels of Nathalie Álvarez Mesén's world premiere of Clara Sola, her Costa Rican directorial debut that participated in the 2019 programme and premiered in Directors' Fortnight this week.