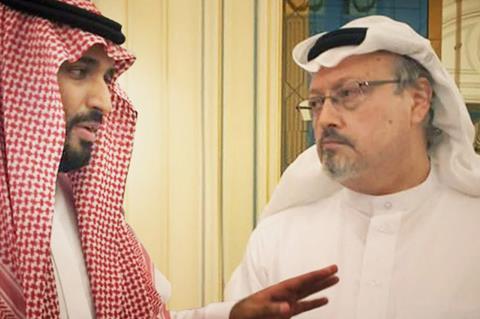 Briarcliff Entertainment has acquired US rights and HanWay Films international sales rights to The Dissident, Bryan Fogel's explosive documentary about the last days of Saudi journalist Jamal Khashoggi.
Tom Ortenberg's Briarcliff plans a theatrical and VOD release in late 2020 along with other events to coincide with the second anniversary of Khashoggi's assassination.
UTA Independent Film Group brokered the deals on behalf of the filmmaking team.
The Dissident premiered at Sundance in January and exposes the labyrinth of deceit behind the murder of the Washington Post journalist and outspoken critic of the Saudi government inside the Saudi consulate in Istanbul.
The film features previously unseen surveillance footage and access to Khashoggi's fiancée Hatice Cengiz, the UN Special Rapporteur Agnès Callamard who led the inquiry into the assassination, Turkish police and prosecutors, cyber security experts, and a young Saudi activist with whom Khashoggi was secretly collaborating.
"As we approach the second anniversary of Jamal's death with no official repudiation, my hope is that this film will enshrine his memory as well as ensure that justice is served, and that our society no longer turns a blind eye to the brutal human rights violations committed by the Saudi regime," said Fogel, who won the best documentary Oscar in 2018 for his sports doping exposé Icarus.
"I am thrilled that the film will receive a truly independent release, detached from corporate and special interests, so that we can authentically work towards these worthy outcomes."
"Bryan Fogel is a courageous filmmaker who consistently takes great risks against very powerful authoritarians," said Briarcliff president Ortenberg. "We have a great sense of responsibility with this project and are honoured to provide a platform that will continue Khashoggi's work and highlight his sacrifices to the largest audience possible."
"When Bryan shared his idea to make the film, I was initially reluctant," said Cengiz. "But as we worked together, I came to realise that Bryan believed in Jamal's cause and values. No one has told this difficult and painful story better than Bryan. I am grateful for him, for his courage, and for immortalising Jamal with this movie. I believe it will raise awareness about Jamal's unjust killing and remind everyone that his killers are still not punished."