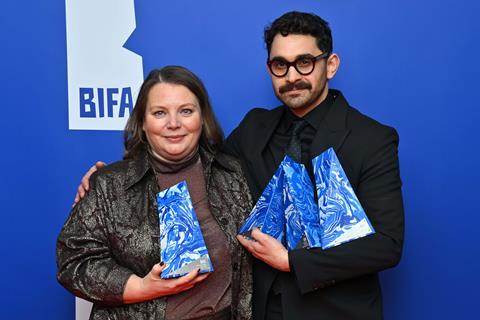 The British Independent Film Awards (BIFAs) will remove gendered acting categories from this year as part of series of wider changes to its line-up of awards.
The individual male and female categories will be consolidated into awards for best lead performance and best supporting performance. Up to 10 nominees are eligible in each category.
BIFA will also introduce a best joint lead performance – for two or exceptionally three – performances that are the joint focus of the film as well as a prize for best ensemble. Up to five nominees will be selected for these categories.
In a joint statement, BIFA directors Amy Gustin and Deena Wallace said they hoped the move would "more fully capture the range of exceptional performances and acting talent in British independent film and allow us to celebrate even more talent than ever before.''
BIFA's established breakthrough performance award, which has always been gender neutral, remains unchanged.
Further additions will see the introduction of a new category, best debut director – feature documentary. This will sit alongside the Douglas Hickox Award for best debut director, which will now be for fiction features only.
The award for best music, which previously recognised both original composition and music supervision, will be separated into best original music and best music supervision.
The nominations for this year's awards, which mark BIFAs 25th anniversary, will be announced on November 3 ahead of a ceremony on December 4.
Wide consultation
Last year, the Gotham Awards announced it would eliminate gendered acting categories and the Berlin International Film Festival followed suit earlier this year. In 2021, the Emmys allowed nominees to use the gender-neutral term "performer", while retaining the separate gendered acting categories.
Speaking to Screen about the changes, Wallace said: "We've been thinking about making changes to the performance categories for a while because they were they were anomalous amongst all the categories as the only ones with a gender split but wanted to take our time to make that decision.
"Quite often when we make changes we will do things fairly quickly, going through our voters and nomination committee, but with this one, we wanted to consult more widely so we started with an open consultation process, for which we had hundreds of responses. We then talked to the Personal Managers Association, the Casting Directors Guild, Equity, the BFI, GLAAD, performers who've been nominated in the past, distributors, as well as our performance subgroup."
Wallace added that the decision was also informed by looking at the number of men and women entered for the awards in recent years to ensure the change would not have a negative effect.
"The number of entries in the actor and actress categories have been roughly 50-50 for the last six years, since Amy [Gustin] and I have been running Bifa," she said. "We're concerned to make sure there's fair representation among performers and wanted to make sure that we weren't negatively impacting the available recognition for women.
"We hope it'll be a permanent change. We're really excited about it and will continue to review it, talking to the people that we've consulted to make sure it is inclusive, representative and fair. We review the categories every year so it's a live process."
The performance categories, with the exception of the breakthrough award, are decided by a main jury, which must all complete unconscious bias training before voting.
BIFA also announced the addition of new members to its board of directors including award-winning producer and head of Home Team, Dominic Buchanan; Carmen Thompson, cultural curator for We Are Parable and producer at Aya Films; and Tim Platt, head of marketing and audience growth at the British Film Institute.