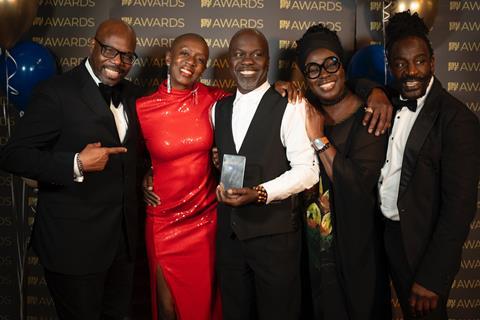 Andy Mundy-Castle's documentary White Nanny, Black Child was among the winners at the British Urban Film Festival, which ran until October 20, and was held outside London for the first time in its history, at Halifax's Crossley Gallery.
White Nanny, Black Child premiered at Sheffield Doc Fest and explores an untold part of UK history when over 70,000 children from West African families, principally Nigerian, were unofficially fostered without regulation into white British families between the 1950s and 1990s. Natasha Dack of Tigerlily Productions co-produces with Doc Hearts.
Further awards went to Jordon Scott Kennedy's boxing drama Suicide Kelly for best feature, which had its world premiere at the festival, while Screen Star of Tomorrow 2023 Ronke Adekoluejo took home the prize for best actress, for her performance in short Guests.
Leeds-born actor Angela Griffin won this year's honorary award – the second woman to win the award in BUFF's history, following director Amma Asante in 2018. Griffin has worked prolifically in TV, in UK soap operas like Coronation Street and Waterloo Road, as well as Harlots and Amazon film Your Christmas Or Mine?
British Urban Film Festival 2023 winners
Actress – Ronke Adekoluejo, Guests
Actor – Damari Green, Wings
Feature – Suicide Kelly dir. Jordon Scott Kennedy
Documentary – White Nanny, Black Child dir. Andy Mundy-Castle


Soundtrack – Echo dir. Jo Southwell
Script supervision – You Fit The Description dir. Davy Lazare
Live script – Say Yes, Lara Genovese, Michael James Nelson
Vatican Diaries, Michael Sedge, Joel Jacobs
The Monster In Mummy, Steve Sloan, Donia Youssef
Short – Wings dir. Billy Boyd Cape
Honorary Award recipient – Angela Griffin