Chen-Zer Doze Niu's Paradise In Service and Lee Bo-Cheung's Gangster Pay Day to bookend 19th edition.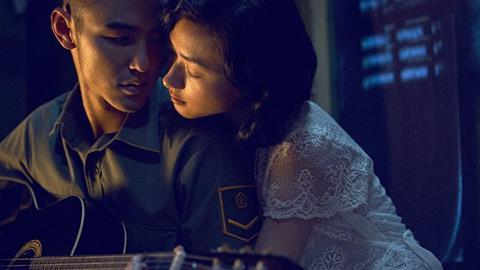 The 19th Busan International Film Festival (BIFF) (Oct 2-11) today announced its line-up with the international premiere of Chen-Zer Doze Niu's Taiwanese film Paradise In Service as the opening film.
Niu and cast members will be on hand at the opening ceremony on Oct 2, to be emceed by Moon So-ri and Ken Watanabe.
Lee Bo-Cheung's Hong Kong-China film Gangster Pay Day will receive its world premiere as the closing film on Oct 11. The director as well as stars Anthony Wong and Charlene Choi will be on hand to present the film.
BIFF will screen 314 films from 79 countries with 98 world premieres and 36 international premieres.
All the 12 New Currents competition films are world or international premieres, including Amin Dora's Ghadi, the first Lebanese film to screen in this section, and Jalal's Story, directed by Abu Shahed Emon, the first Bangladeshi film to screen in the strand.
"In a phrase, you could say the Busan International Film Festival has strengthened its programme as a place of discovery," said festival director Lee Yong-kwan.
He gave as examples the fest's previously announced Georgian women filmmakers and New Turkish Cinema: Faces Of the 21st Century showcases, as well as films from new Asian filmmakers, including from Vietnam and Korea, to introduce to the world through the festival and Asian Film Market.
New prizes
Towards the goal of discovery and introduction, the fest is also launching Actor and Actress of the Year awards. They come with approximately $5,000 in Korean Won each for promising talent featured in a Korean independent film. This year, Yoo Ji-tae will pick one actor while Kim Hee-ae will pick one actress and the festival hopes this will become a relay of actors and actresses to give out the awards.
BIFF also has the new Daemyung Culture Wave Award, which gives around $20,000 in cash and $100,000 in distribution expenses to a Korean independent film.
Wide Angle
The festival's Wide Angle section is also launching a Cinekids programme with five films. Of these, three animations will screen with subtitle-reading services for children who cannot yet read: Swedish comics and fairy tales remade into animations Bamse And The City Of Thieves and That Boy Emil, and an Irish legend in Song Of The Sea.
Wide Angle also includes feature documentaries such as Frederick Wiseman's National Gallery and Michel Gondry's Is The Man Who Is Tall Happy? : An Animated Conversation With Noam Choamsky.
Programmer Hong Hyo-sook especially remarked upon Goran Olsson's Swedish documentary Concerning Violence in the Documentary Showcase section of Wide Angle, as well as world premieres of Guillaume Suon's Cambodian film The Storm Makers and the Korean film Collapse, co-directed by Moon Jeonghyun and Lee Wonwoo, both in the Wide Angle Documentary Competition.
Asian Cinema
A Window on Asian Cinema will screen 57 films from 28 countries to show trends in Asian filmmaking.
World premieres include Woo Ming Jin's Malaysian film Second Life of Thieves, Kondej Jaturanrasmee's Thai film So Be It, and Kiki Sugino's Japanese film Taksu.
International premieres include Pema Tseden's Chinese film The Sacred Arrow and Narges Abyar's Iranian film We Have a Guest.
Much-anticipated features from veteran directors include Miike Takashi's Over Your Dead Body (Japan), Johnnie To's Don't Go Breaking My Heart 2 (Hong Kong) and Sono Sion's Tokyo Tribe (Japan).
Gala Presentations will include Mohsen Makhmalbaf's Georgian film The President and this year's Asian Filmmaker of the Year award-winner Ann Hui's The Golden Era, starring Tang Wei.
The Korean Cinema Today section will feature recent high profile films such as all-time box office hit Roaring Currents and Shim Sung-bo's Haemoo, but also several world premieres such as Ku Hyesun's Daughter, Lee Kwang-kuk's A Matter Of Interpretation, and Kim Tae-yong's Set Me Free.
World Cinema
The World Cinema section will screen 54 films from 33 countries including the international premieres of Slovenian film Inferno, directed by Vinko Moderndorfer, and Italian film The Dinner, directed by Ivan De Matteo.
Other notables in the section include Alain Resnais' Life Of Riley and Jean-Luc Godard's Goodbye To Language. Asia Argento will be in Busan as a director to present her Italian film, Misunderstood.
Flash Forward, the section introducing up-and-coming non-Asian directors, has 35 films from 29 countries including 12 candidates for the Busan Bank Award, which is given by audiences to a winner that gets distribution support in Korea.
World premieres amongst those candidates include Max Sobol's UK film You (Us) Me, Titus Heckel's Canadian film With Child, and Sebastian Schindel's Argentinian film The Boss, Anatomy Of a Crime.
Nymphomaniac
Open-air screenings at the Busan Cinema Center will include Boo Ji-young's Cart, set to make its world premiere in Toronto, Indochine director Regis Wargnier's Khmer Rouge film The Gate, and Yukisada Isao's world premiere of Five Minutes To Tomorrow.
Lars Von Trier's Nymphomaniac Director's Cut Vol. 1 & 2 will screen back-to-back in the Midnight Passion section.
Selected by the Korean Film Archive, Kim Soo-yong's 1965 film Sorrow, Even Up In Heaven - remade in 1984 - will screen in the Archeology of Korean Cinema section. This will be the first time the print of the original found in Taiwan will be shown in Korea.
AFM growth predicted
Asian Film Market director Jay Jeon estimates participants will go up more than 20% this year based on registrations four weeks ahead of deadline.
"The reason for this increase is that the local market for Korean films is expanding and ancillary rights markets are expanding at high speeds," he said.
"Also, since president Xi Jinping's visit to Korea and the signing of the Korea-China co-production agreement, there's been a surge of interest in Busan from Chinese film business people."
He added they were particularly interested in "Korea's excellent producers and directors" as well as in potentially sponsoring the Asian Film Market.
Aside from previously announced events, seminars include International Co-productions (involving China in particular) Business and Legal Issues to kick off the market.
The Asian Film Market will run Oct 5-8 in the BEXCO.
Under its umbrella, the Asian Project Market (APM), with 30 previously announced selections, will run Oct 6-8.