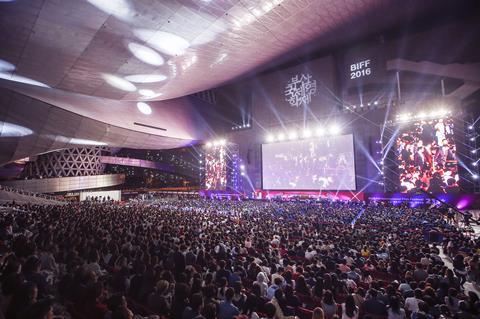 Busan International Film Festival's Asian Contents & Film Market (ACFM) – previously known as the Asian Film Market – has announced it will run as a combined virtual and physical event October 12-14 in the face of the Covid-19 pandemic.
Market organisers announced the name change in May to reflect the market's "belief in solidifying its foundation as a total contents market that includes both film and content distributed on TV, OTT, and other diverse platforms, as well as uplifting the One-Source Multi-Use (OSMU) system by introducing original content such as books, web comics, web novels and web dramas, to industry professionals at the E-IP (Entertainment Intellectual Property) Market."
The Film Market portion of ACFM, which previously took place at BEXCO, will be held entirely online. ACFM will host online market booths and screenings for sales companies on a web-based platform free of charge.
The Entertainment Intellectual Property (E-IP) Market will be a combined online and on-site event at BEXCO's Exhibition Center 2, "in compliance with proper safety protocols and quarantine guidelines set by central and local governments," according to organisers. Further details will be announced on the ACFM website (www.acfm.kr).
ACFM also announced 17 Korean selections for the E-IP Market, which this year will be integrating into a single event the Book To Film and E-IP Pitching events (which previously presented selections of original books and web content, respectively).
The 17 Korean projects include sci-fi fantasy action web cartoon Reapers, with story by Uhm Hye-kyung and art by An Kyung-ik, Eun Heekyung's drama comedy romance book The Past Of Lights and Jungjoohaeng's drama fantasy romance web novel The Time-warping Salaryman.
E-IP Market is also due to present selections from Japan and Taiwan in cooperation with the Visual Industry Promotion Organization (VIPO) and the Taiwan Creative Content Agency (TAICCA), respectively.
Last year's E-IP Market deals include the Book To Film selection Abyss getting picked up for film production by Red Peter, the production house whose credits include Train To Busan and Peninsula.