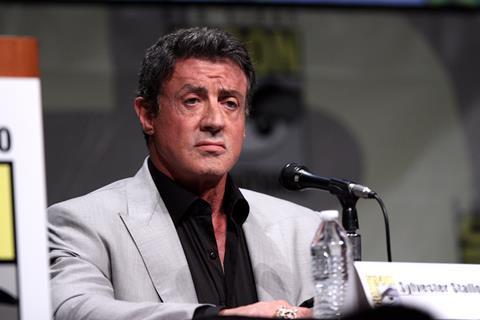 Sylvester Stallone action sci-fi Little America has been a big seller for AGC International at the EFM, with major independents taking territories.
Deals have closed for France (Metropolitan), Germany and Switzerland (Leonine), Italy (Wild Bunch), pan-Latin America, Spain and Portugal (Sun Distribution), CIS (Parakeet), and Middle East (Selim Ramia).
Rights have also gone in South Korea and Vietnam (Joy N Cinema), Benelux, Turkey, and pan-Eastern Europe (SPI), Taiwan (MovieCloud), Thailand (Sahamongkolfilm), Indonesia (PT Prima), Greece (Odeon), India (Lionsgate India), Israel (United King), South Africa (Empire), and Asia pay-TV (Fox International).
AGC Studios is producing Little America with Balboa Productions and Platinum Dunes is executive producer. Writer-director Rowan Athale (Wasteland, Outside The Wire, Way Down) flew into Berlin to meet buyers and production is scheduled to begin in summer.
The story takes place in a future where China owns the United States and a former operative is hired by a Chinese billionaire to extract his daughter from a ghetto.
Negotiations are ongoing this week with the few remaining territories. AGC's president of worldwide distribution Michael Rothstein announced the deals at the EFM on Monday (24).
AGC Studios recently wrapped production on Neil Burger's YA sci-fi thriller Voyagers that launched at the EFM last year and stars Tye Sheridan, Lily-Rose Depp, Fionn Whitehead, and Colin Farrell; Tate Taylor's feature comedy Breaking News In Yuba County with Allison Janney, Mila Kunis, Regina Hall, Awkwafina, and Wanda Sykes; revenge thriller The Secrets We Keep starring Noomi Rapace and Joel Kinnaman; and sci-fi TV series War Of The Worlds with Gabriel Byrne and Elizabeth McGovern, which premiered on EPIX earlier this month.
The company partners with CNN Films on upcoming documentary features Ladyboss: The Jackie Collins Story and John Lewis: Good Trouble in post-production; and with Roland Emmerich on action sci-fi Moonfall. It is in pre-production on horror thriller Geechee starring Andrea Riseborough, and partners on the TV adaptation of Gabriel García Márquez's News Of A Kidnapping for Amazon Studios.