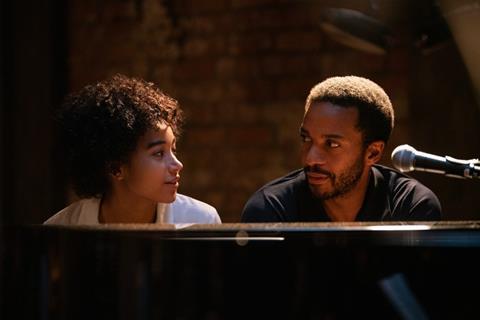 An internationally vibrant and high-calibre Berlinale Series Market and conference kicks of today (February 24), reflecting a sense of opportunity and dynamism in contrast to the somewhat muted air that hangs over the film component of the EFM.
The small screen showcase premieres new shows from opening speaker Jason Segel (Dispatches From Elsewhere), Damian Chazelle (The Eddy), and Cate Blanchett, scheduled to speak with Tony Ayres and Elise McCredie, her co-creators on the detention centre drama Stateless for the Australian Broadcasting Corporation. Chazelle's La La Land was a film sales title at the market a few years ago.
Besides talks and panels on subjects as diverse as streaming, Scandinavia, indigenous storytelling, and local content for global audiences, the TV showcase will hear from companies more readily associated with cinema, like local powerhouse Constantin Film (Resident Evil franchise) and Canada's Bron (Joker, Bombshell), which debuts its first series Shadowplay produced with Studiocanal's Tandem Productions and ZDF from Germany.
Like others, they have pivoted into a TV boom powered in no small part by the proliferation of deep-pocketed streaming platforms, setting up international co-productions and attracting the kind of talent that used to make film its first port of call.
"We started out as a film company and I must admit we're moving more into TV," said Alexander van Dülmen of Berlin- and Munich-based Carte Blanche International, which has made waves at the EFM with its feature project Merkel and just announced the Vietnam-War series Nhiem to be directed by Roger Donaldson.
Drug dealer drama series Snow King is in the works for Carte Blanche International and more details are expected to emerge in the months ahead. "The theatrical market is changing very fast and it seems to be easier to produce content for TV than for the cinema," said van Dülmen, who added that TV now accounts for roughly 50% of the company's pipeline.
Juan de Dios Larraín, the producer of A Fantastic Woman and co-founder of Chilean producer Fabula with his brother and director Pablo Larraín, has The Pack (La Jauria) screening in a Chilean TV showcase at EFM (Chile is the country in focus at the market this year) and the female-led crime series starring Daniela Vega hails from a producing-sales partnership with London-based Fremantle. Amazon Prime will stream The Pack in Latin America.
Pablo Larrain meanwhile has turned his talents to the small screen and is directing Faces, a Stephen King adaptation for Apple TV+ based on the book Lisey's Story.
Fabula (The Club, No) remains committed to film but understands the need to serve changing audience demand. "The TV market has been growing drastically in the last couple of years," he notes. "The question is, are we able as a market to produce content for a global audience and a Latin American audience? If so, there is a lot of room for growth."
Additionally, the lure of TV for talent makes it increasingly tough for sales agents and producers to package films for markets such as EFM with first-choice stars and directors. The availability of writers is by no means easy either, given the ongoing impasse between the Writers Guild of America and Hollywood agencies.