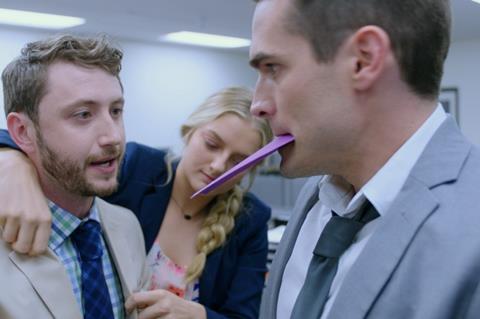 Buyers in the UK, France and Canada have acquired rights to Jim Cummings' recent Berlin Encounters selection The Beta Test.
Benjamin Wiesnner of Los Angeles-based production company Vanishing Angle negotiated the deals with Blue Finch in the UK, New Story in France, and Vortex Media in Canada.
The horror thriller centres on a Hollywood agent who gets sucked into a world of sexual infidelity and mysterious streams of digital data.
It recently sold to IFC Films for the US and is expected to launch in the US and the first wave of international markets in autumn.
Cummings, who won the 2018 SXSW best narrative award for Thunder Road, directed, co-wrote and stars in The Beta Test with PJ McCabe.
The key cast includes Virginia Newcomb, Kevin Changaris, Olivia Grace Applegate, Jessie Barr, Keith Powell, Joy Sunday, Wilkey Lau, Malin Barr, and Christian Hillborg.
Natalie Metzger, Matt Miller, and Wiessner of Vanishing Angle produced the film, and Douglas Choi of Sons of Rigor Films, John Jeffrey Martin of DiffeRant Productions, Jake Orthwein, Alex Rudolph, and Matthew Stewart served as executive producers.
Vanishing Angle also produced Josh Ruben's comedy horror Werewolves Within, which sparked a strong response for sales agent Mister Smith at the virtual EFM.