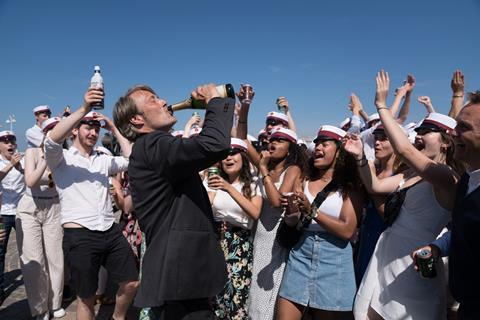 TrustNordisk has closed further deals in Europe and the Middle East for Thomas Vinterberg's Cannes selection Another Round.
The latest territories sold are Spain (Bteam Pictures), Italy (Movies Inspired), Israel (United King) and Romania (Bad Unicorn).
It follows a series of deals agreed during the Cannes Marché du Film Online, after being selected for the Cannes 2020 label and ahead of its planned physical world premiere in Toronto's streamlined festival in September. The Danish release is set for September 24.
Written by Vinterberg and Tobias Lindholm, the Danish film centres on four high-school teachers who test a theory that they will work and live better by maintaining a constant level of alcohol in their blood. Their initial results are positive with classes and results improving but, as they continue the experiment, the results become more extreme.
Mads Mikkelsen reunites with Vinterberg after The Hunt and stars alongside Thomas Bo Larsen, Lars Ranthe and Magnus Millang.
Deals were announced last week with Japan (Klockworx), Australia (Umbrella Entertainment), China (Red Apollo), Mexico, Central America and Colombia (Gussi) and Brazil (Synapse/Vitrine).
TrustNordisk previously sold the film to France (Haut et Court), UK and Ireland (Studiocanal), Canada (Mongrel Media), Germany, Austria and Liechtenstein (Weltkino), South Korea (Atnine Film), Turkey (Filmarti), Benelux (September Films), Portugal (Films4You), Russia (Capella Film), Switzerland (Pathé Film), Hungary (Vertigo Media), Greece (Rosebud), Former Yugoslavia (Discovery Film & Video), Poland (Best Film), Estonia, Lithuania, Latvia (Estin Film) and Czech Republic (Film Europe).
Sisse Graum Jørgensen and Kasper Dissing produce for Zentropa. It is co-produced by Film i Väst, Zentropa Sweden, Topkapi Films and Zentropa Netherlands with support from the Danish Film Institute, TV 2 Denmark, Eurimages, the Netherlands Film Fund, the Swedish Film Institute, the Netherlands Film Production Incentive and the MEDIA Programme.