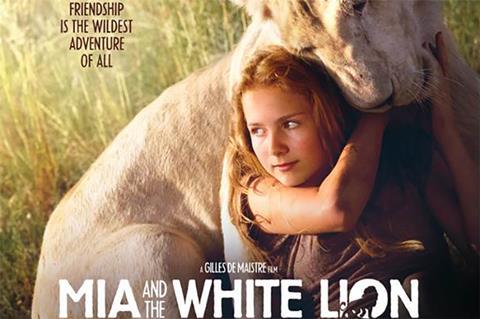 Paris-based Studiocanal is reporting near sell-out sales on French director Gilles de Maistre's South Africa-set family film Mia And The White Lion at last week's EFM.
The English-language drama revolves around a rebellious young girl who bonds with a white lion cub, and then runs away with him as he approaches full size to prevent his sale into the big game, trophy-hunting business.
The ambitious production was shot over the course of three years so that the film's young star Daniah De Villiers and other supporting cast members could truly bond and grow with the animals that appear in the film.
This approach as well as a powerful trailer struck a chord with buyers, said Studiocanal head of international sales Anne Cherel.
"We knew we had something special in our hands but even we were surprised by the enthusiasm of the buyers," said Cherel. "I think the production process and the fact the scenes between Mia and the lion are for real and not reliant on CGI really appealed to all those who saw the trailer."
In Europe, the film has sold to Italy (Eagle Pictures), Spain (A Contracorriente), Benelux (Athena Films), Portugal (Lusomundo), Greece (Feelgood Entertainment), Scandinavia (Svensk), Iceland (Myndform EHF), Eastern Europe (Prorom / Kinoswiat), CIS (Pioneer) and the Baltics (Acme).
In Asia, it has been acquired for China (Bravo Pictures), India (PVR Pictures), Taiwan (Moviecloud), Indonesia (PT Amero), Philippines (Pioneer), Hong Kong (Edko) and Thailand/Vietnam and Malaysia (Sahamongkol Film).
Middle East heavyweight Salim Ramia has acquired pan-Arab rights for the region.
Other territories currently negotiation include the US, Latin America and Turkey as well as airlines.
Studiocanal is planning a big Christmas release for the film in France on December 26.
The film is based on an original story written by de Maistre's wife Prune de Maistre after they visited lion-breeding farms in South Africa. It is co-produced by Jacques Perrin's Galatée Films and Studiocanal.
Busy EFM
The success of Mia And The White Lion tops a busy EFM for Studiocanal, which rolled out six new titles including Pierre Schoeller's lavish French Revolution drama One Nation, One King, a hot contender for a Cannes splash this May.
Early deals include to Spain (A Contracorriente), Portugal (Lusomundo), Greece (Seven Films), CIS and Baltics (Pioneer), Middle East (Salim Ramia), Taiwan (Moviecloud), Hong Kong (Edko) and China (Jushi).
Cherel also reported good business on deals for Lars Kraume's The Silent Revolution which premiered in a special screening at the Berlinale.
It is based on the true story of a group of young students in East Germany in 1956, who decided to stage a minute's silence in solidarity with victims of the Hungarian uprising against the country's communist regime.
The film was acquired for France (Pyramide Distribution), Spain (Karma Films), Switzerland (Look Now! Film Distribution), Greece (Seven Films), Hungary (Mozinet Ltd), Scandinavia (Angel), Japan (New Select) and Israel (Nachshon).
The company also reported new deals on actor-director Gilles Lellouche's upcoming comedy-drama Sink Or Swim about a male synchronised swimming team and starring Mathieu Amalric, Guillaume Canet, Benoît Poelvoorde and Virginie Efira.
EFM deals for the title include to Italy (Eagle Pictures), ex-Yugoslavia (Blitz), Hungary (ADS), Baltics (Best Film) and South Korea (Atnine).