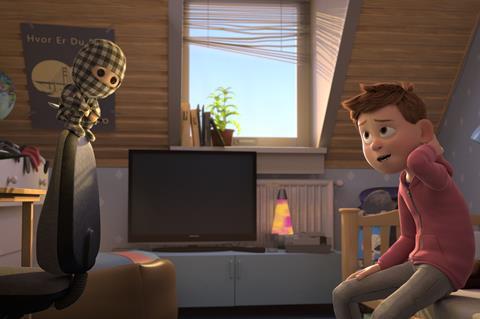 LevelK has sold hit Danish animated feature Checkered Ninja to more than 50 territories.
Deals include for France (Koba Films); Benelux (Just4Kids); Portugal (Outsider); Russia (Kinoland); South Korea (Challan); the Middle East (Prime Pictures); Estonia, Latvia and Lithuania (Estin Film); Albania, Bosnia and Herzegovina, Croatia, The Former Yugoslav Republic Of Macedonia, Kosovo and Montenegro (Radar).
Checkered Ninja is based on a book by Danish comedian Anders Matthesen, who also directed the film alongside Thorbjørn Christoffersen (Ronal the Barbarian, Terkel in Trouble).
Nordisk released the film in Denmark on Christmas Day and it has broken local box-office records including the best first-week and best four-day opener for a Danish film, as well as the best-ever opening for any animated feature (including studio films) in Danish cinemas.
Trine Heidegaard and Anders Mastrup produce, and Cemille Matthesen executive produces.
Copenhagen-based animation company A.Film, whose credits also include The Incredible Story of the Giant Pear, produces. Co-producers are Sudoko ApS, Pop Up Production and DR. The Danish Film Institute backed the film.
The story is about a boy, Aske, whose uncle gives him a Ninja doll after a trip to Thailand. The doll turns out to be alive and can help Aske with his problems at school, Aske wants to return the favour but the ninja is possessed and wants revenge.
Debra Liang, sales and acquisitions manager at LevelK, said: "Checkered Ninja been a huge domestic success in Denmark, becoming the most successful Danish animation ever with over 900,000 admissions to date. The humour along with its positive message against bullying has made an impact internationally with the title selling extremely well to major European territories and to the Middle East. The film is continuing to gain interest internationally and we look forward to bringing more distribution partners on board this journey to have it screened in cinemas worldwide."