Jennifer Aniston drama tops Julianne Moore Oscar-winner.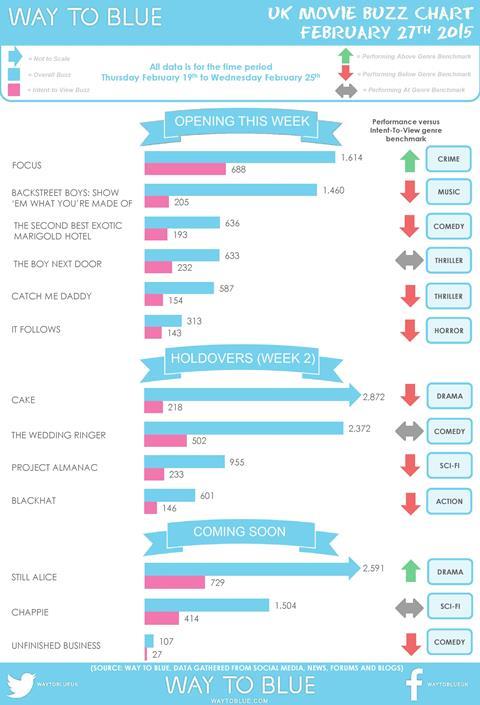 Despite missing out on a nomination at this year's Academy Awards, Jennifer Aniston drama Cake managed to beat the competition in the social buzz charts, according to Way To Blue.
In its first week of release in the UK, Cake generated close to 2,900 comments from Feb 19-25 across social media, news, forums and blogs.
Still Alice, which screened at the Glasgow Film Festival last weekend and is due for UK release on March 6, generated nearly 2,600 comments.
The film won a Best Actress Oscar for Julianne Moore, who plays a professor diagnosed with Alzheimer's.
Aniston was widely expected to pick up a nomination for her performance as a chronic pain sufferer but was overlooked.
Ranking third in the chart was Kevin Hart comedy The Wedding Ringer with close to 2,400 comments.
Of the film's opening this weekend, Will Smith action caper Focus topped the chart with more than 1,600 comments, of which a solid 43% expressed intent to view – meaning those who commented are likely to see the film in the cinema.
Second was documentary Backstreet Boys: Show 'Em What You're Made Of, which generated 1,460 comments following a premiere and performances in London.