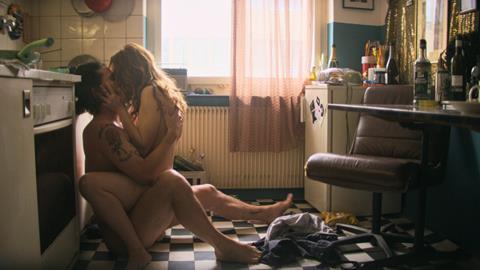 Alamode Films has picked up German rights to Cannes ACID title 99 Moons from M-Appeal.
Directed by Switzerland's Jan Gassmann, the erotic drama is the latest Cannes official selection film to be picked up by Alamode, following Triangle of Sadness, Holy Spider and Corsage.
99 Moons follows the passionate and turbulent relationship of Bigna and Frank, two people from different worlds who become drawn inexorably together. Shot by Yunus Roy Imer, who was also the cinematographer on Nora Fingscheidt's System Crasher, the film explores the magnetism and power games of sexual attraction.
Valentina Di Pace and Dominik Fellmann, both newcomers, play the lovers caught in the stormy relationship.
The film is produced by Zodiac Pictures and co-produced by Swiss Radio, and Television SRF. It was supported by Bundesamt für Kultur (EDI), Zürcher Filmstiftung, Kulturfonds-Suissimage, Kanton Luzern and Media Desk Suisse. The producers are Reto Schaerli and Lukas Hobi.
"We were drawn into this wild story right from the start," said Tobias Lehmann, managing director of Alamode. "The lead actors give strong performances and the chemistry between them seems totally authentic. We know that there is an audience for this type of sophisticated, sexually driven drama."
Swiss distribution is being handled by Filmcoopi Zürich.