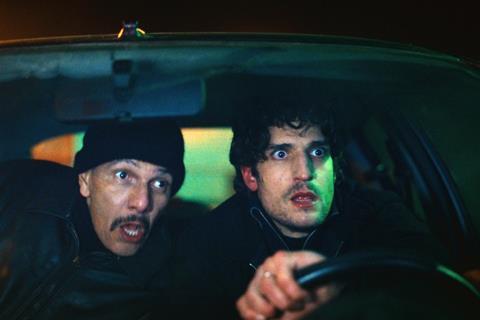 Cannes Film Festival has added a flurry of new titles to its 2022 Official Selection, as promised by delegate general Thierry Frémaux at last week's press conference unveiling the bulk of the titles due to premiere at its 75th edition, running May 17-28.
A total of 17 fresh additions were announced, joining the 47 films unveiled on April 14 as well as Elvis and Top Gun: Maverick, which were announced earlier. This brings the total number of films in selection so far to 66 against 83 in last year's special July edition.
The announcement had been expected on Thursday morning but was finally sent out in the early evening after a day of feverish deliberations. According to sources, the selection team had been on the verge of re-watching one or two films again overnight ahead of sealing their final choices.
Among the 17 new titles, seven hail from France bolstering the number of French films in the Official Selection to 18, or 27% of the line-up. The new additions also see another seven female directors join the Official Selection. This brings the total number of women with films in the line-up to 18, representing 24% of the 73 directors in total.
Belgian directorial duo Felix Van Groeningen and Charlotte Vandermisch's Italian-language work The Eight Mountains, French director Léonor Serraille's Mother And Son and Spanish director Albert Serra's Tourment Sur Les Iles (previously announced as Bora Bora) have been selected for the main Competition.
The Eight Mountains is adapted from Italian writer Paolo Cognetti's bestseller about the enduring friendship that develops over the course of the summer in a remote part of the Italian Alps between two boys from very different backgrounds.
It marks the seventh feature of Van Groeningen whose credits include Oscar-nominated The Broken Circle Breakdown and Beautiful Boy and a debut feature for Vandermisch. Van Groeningen was last in Cannes with his second feature The Misfortunates which played in Directors' Fortnight in 2009.
Mother And Son is a second feature for Serraille who won the Caméra d'Or in 2017 her first film Jeune Femme. The new work follows the fortunes over 30 years of a woman, played by Annabelle Lengronne, who moves from Africa to the Paris suburbs with her two young sons in the late 1980s.
A trio of French titles was also added to the Cannes Premiere section aimed at more established directors: Serge Bozon's Don Juan, Dominik Moll's Night Of The 12th and Emmanuel Mouret's Chronique d'Une Liaison Passagère.
Musical comedy-drama Don Juan co-stars Tahar Rahim opposite Virginie Efira as an actor who finds himself playing the legendary lothario opposite the woman who jilted him. Director Bozon was last in Cannes in 2013 with whodunnit Tip Top which debuted in Directors' Fortnight
Moll's Night Of The 12th reunites him with his Only The Animals cast member Bastien Bouillon as a Grenoble police investigator who becomes obsessed with a case involving a complex female murder victim. Bouli Lanners also features in the cast as his sidekick.
Moll was last in Official Selection with Black Heaven which played Out of Competition in 2010, while he also took a shot at the Palme d'Or in 2000 and 2005 respectively with Harry, He's Here To Help and Lemming.
Chronique d'Une Liaison Passagère stars Sandrine Kiberlain and Vincent Macaigne as a single mother and a married man who enter into a relationship on the understanding that it is for sex but develop feelings for one another nonetheless.
It marks Mouret's first physical screening in Official Selection after his last film Love Affair(s) was selected for Cannes special 2020 label.
A quartet of new titles was added to Un Certain regard: Emily Atef's More Than Ever, Maha Haj's Mediterranean Fever, Maryam Touzani's The Blue Caftan and Lotfy Nathan's Harka.
More Than Ever stars Vicky Krieps as a French woman who heads to Norway in search of new horizons. The cast also features French actor Gaspard Ulliel in his last role before his tragic death at the age of 37 in a skiing accident.
Mediterranean Fever revolves around an aspiring but depressed writer living in Haifa who befriends his small-time crook neighbour in the hope he will help him with a sinister scheme. Haj's debut feature Personal Affairs also world premiered in the section in 2016.
Touzani's second film The Blue Caftan stars Saleh Bakri and Lubna Azabal star as a couple running a caftan store in one of Morocco's oldest medinas in the town of Salé, who are living in denial of the husband's homosexuality until a young apprentice upsets the status quo. Touzani is also a Un Certain Regard returnee, having world premiered her debut film Adam in the section in 2019.
Harka is Egyptian-US filmmaker Lotfy Nathan's debut feature. The Tunisia-set drama follows the political awakening of an ordinary young man in the wake of his father's sudden death which leaves him responsible for his young sisters and exacerbates his already precarious situation.
In other sections, Belgian directorial duo Adil El Arbi and Bilall Fallah's Rebel, their homecoming film after enjoying worldwide success with Bad Boys For Life, will play in a Midnight Screening. It follows a Moroccan teenager growing up in a tough Brussels neighbourhood and looking for an anchor following the death of his father.
The addition of Rebel and The Eight Mountains makes for a record-breaking four Belgian films in Official Selection this year, with three Belgian films in Competition. The previously announced Belgian titles comprise Lukas's Dhont's Close and Jean-Pierre and Luc Dardenne's Tori And Lokita.
French actor and director Louis Garrel's comic thriller The Innocent has secured an Out of Competition slot. Garrel stars as a man who turns to criminal methods to investigate his mother's ex-convict partner, opposite Anouk Grinberg and Roschdy Zem. It is Garrel's fourth feature in the director's chair after Cannes 2021 selection The Crusade and previous films A Faithful Man and Two Friends.
Another five titles have been added as Special Screenings including Chilean filmmaker Patricio Guzmán documentary My Imaginary Country, exploring the protests that exploded onto the streets of Chile's capital of Santiago in 2019 as the population demanded more democracy and social equality around education, healthcare and job opportunities.
Guzmán's last documentary The Cordillera Of Dreams world premiered in Cannes in 2019.
The new additions:
Competition
The Eight Mountains (It-Bel), Charlotte Vandermeersch, Felix Van Groeningen
Mother And Son (Fr), Léonor Serraille
Tourment Sur Les Iles (Sp), Albert Serra
Cannes Premiere
Don Juan (Fr), Serge Bozon
Night Of The 12th (Fr), Dominik Moll
Chronique d'Une Liaison Passagère (Fr), Emmanuel Mouret
Midnight
Rebel (Bel), Adil El Arbi, Bilall Fallah
Un Certain Regard
More Than Ever (Fra), Emily Atef
Mediterranean Fever (Pal), Maha Haj
The Blue Caftan (Mor), Maryam Touzani
Harka (Tun), Lotfy Nathan

Out of Competition
The Innocent (Fr), Louis Garrel
Special Screenings
My Imaginary Country (Chil), Patricio Guzmán, documentary

The Vagabonds (Ger), Doroteya Droumeva *
Riposte Féministe (Fr), Marie Perennès, Simon Depardon, documentary *
Remains Of The Wind (Port), Tiago Guedes
Le Petit Nicolas Qu'Est-Ce Qu'On Attend Pour Etre Heureux? (Fr), Amandine Fredon, Benjamin Massoubre animation *
* first film