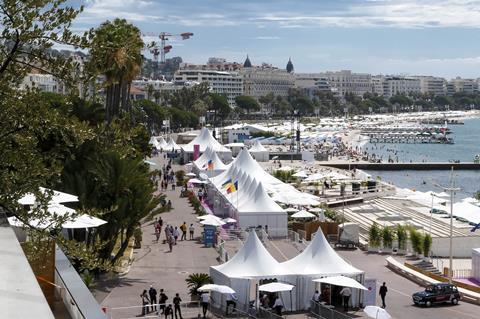 The Cannes Film Festival and its Marché du Film roared back to life this year to the sound of a red-carpet flypast by French air force jets to mark the world premiere of Top Gun: Maverick on the second day (May 18) of the event.
The classy Cannes launch of the film, which is predicted to gross $180m worldwide this opening weekend after being held back for two years due to the Covid-19 pandemic, took on a special significance for theatrically- focused US professionals in town, who were also physically back on the Croisette for the first time since 2019.
"It was fun to see the Maverick premiere. It's the kind of movie that opens everybody to coming back to cinemas again," said Todd Olsson, president of international at Los Angeles-based Highland Film Group. "It's a movie they held for the entire pandemic because they believed in it and didn't want to see it dwindle, like some of the other movies that went early, testing the waters.
"It couldn't come at a better time," he added. "It's the perfect movie for where we are now, as we come out of it [the pandemic] and head into the summer. It hits all the quadrants, even the older audience, who wouldn't come out before, but will for this because of the nostalgia element. It could be a great jumpstart for the theatrical business."
Like most US execs who made the trip to Cannes this year, Olsson was elated to be back, meeting clients face-to-face for the first time since the Berlinale's European Film Market (EFM) in February 2020.
"We've been very busy and had very successful virtual markets but it's not the same scenario. It was fantastic to all be back together, seeing everybody, having dinners, lunches and drinks in person. It made a difference to how the deals were done," he said.
Busier than 2019
The US industry was not the only global contingent back in force at the market this year. According to final figures from the Marché du Film, there were 12,872 accreditations in total, only 7% of which were for online participation. This compares favourably to pre-pandemic levels in 2019 when there were roughly 12,500 accreditations, especially given the fact there were fewer Chinese professionals, due to a new wave of Covid-19 back home, and hardly any Russian attendees due to sanctions related to their country's invasion of Ukraine. The US was the biggest territory in attendance, accounting for 18% of accreditations, followed by France (17.1%) and the UK (10.3%).
"Accreditations were late coming in and I had a bet with the team we'd hit around 8,000 accreditations in total," said the Marché du Film's co-executive director Guillaume Esmiol, who takes over the baton from departing market head Jérôme Paillard for 2023. "We didn't know what to expect but the feedback we're getting is that it was a dynamic market. I spoke to sales agents, and they had great meetings. I hope and believe the business is there. There were a few less exhibitors, 370 companies in total, but it's still a good number.
"It was a true market revival," he continued. "That was not guaranteed but we felt people were happy to be here, meeting people face to face again and that they do better business that way."
Stephen Kelliher, managing director at the UK's Bankside Films, who was in Cannes with a busy slate including thriller Brightwater and comedy of horrors Raised Eyebrows, agreed.
"It was daunting going in, having been behind a computer screen for so long, but we found that the old rhythm quickly returned and it was amazing to reconnect with so many friends and colleagues," he said. "There were many hugs and a lot of joy in being back together again and I think the business was positively impacted as a result.
"Business has been extremely active," Kelliher continued. "It has been the most active Cannes we've seen in the company's history. We've been blown away by the reaction to the slate and by buyers' willingness to embrace the titles that make sense from a cast, genre and budget point of view. It feels like the first physical market since Covid really landed with a bang."
US packaging market
Against this backdrop, the US package market was steaming, with a raft of announcements leading up to and during the early days of the market.
"We heard from our buyers, that there were literally 100 scripts that went out," said Olsson. "Out of that, probably 35% of those were what we like to call real movies, with significant cast and strong scripts."
Highland launched action thriller Land Of Bad, starring Russell Crowe and Liam Hemsworth, and also tied up sales on heist thriller Bandit, starring Josh Duhamel and Mel Gibson, and Vietnam War action thriller Ambush.
Other buzzy packages included Robert Zemeckis's Here and The Beekeeper for Miramax; Hunger Games prequel and Dirty Dancing sequel for Lionsgate International; Paul Greengrass's The Hood and The Crow remake for FilmNation; spy thriller Black Canary for Anton; supernatural thriller Merciless and drug heist thriller Sombra for Sentient Pictures International (SPI); action thriller Breathe and Boy Kills World for Capstone Global; and gambling world drama Poker Face for Arclight Films.
There were mixed messages from buyers in the market with plenty of business getting done but grumbles about prices being asked for some of the bigger budget packages, especially at a time when box-office numbers have yet to return, even in normally robust markets such as France.
"The market was definitely back," said Christopher Tuffin, co-founder of US outfit SPI. "Collectively it was a little scattered with people throwing stuff against the wall. People had inventory, films they couldn't take out in recent years and they were now trying to get out."
He suggested buyers were equally keen to get down to business.
"You had movies that came together four days into Cannes, like Paul Greengrass's movie [The Hood]," he noted, revealing it had also been a fruitful market for SPI titles. "Merciless, we'll be able to greenlight in about two weeks based on the level of sales that we've achieved. I don't have the full sales reports back on those films yet, but both of those films [Merciless and Sombra] will be greenlit for September."
He added, however, the market could be due an adjustment with projects budgeted at less than $5m or more than $20m, with a star attached, still able to find finance internationally, while projects in the $5m-$20m range were struggling right now. "Going into the market with a $10m project expecting you're going to lay off seven of it on the international market is not there today," he said. "There is a reality check that is going to have to come into play soon."
Brian Beckmann, CFO of US and Australian-based Arclight Films, suggested its sales force had benefited from the fact they had titles close to completion, such as Poker Face and The Portable Door, because the company had managed to keep shooting films in Australia, while production had remained complicated in the US.
"When other people are trying to get films made of the same cast and calibre, we've already got it made and we're delivering in 60 days, while it's going to take them 18 months to deliver," he said.
Pia Patatian, senior vice president at Capstone, took reports of buyer complaints around high prices with a pinch of salt.
"This is part of the game. I never had a buyer who when told a price says, 'That's fair, let's close the deal' straightaway. There were some packages that were very, very, very high but budgets are not decreasing, we need to add Covid-related costs, for example. It's a difficult time for everyone."
Beyond the new project launches, Patatian also reported a buzzy response to its first promo for Saudi Arabia-shot action picture Kandahar, which Capstone produced with Thunder Road.
"A lot of buyers acquired it at the project stage while there were other territories where buyers wanted to see the promo first. They all loved it and hopefully, we'll be selling out on this title shortly after Cannes," she said.
Europe hots up
Europe was also humming in terms of packages, titles in post-production, festival breakouts and market business.
Hot European projects included French director and Venice Golden Lion winner Andrey Diwan's Emmanuelle reboot starring Léa Seydoux and Maïwenn's period drama Jeanne du Barry, co-starring Johnny Depp, for Wild Bunch International; Bruno Dumont's sci-fi drama The Empire, starring Lily-Rose Depp, Anamaria Vartolomei and Camille Cottin, for Memento International; and François Ozon's Madeleine for Playtime.
Films in post-production include Swedish director and writer Ernst De Geer's social satire The Hypnosis, co-starring buzzy Nordic actors Herbert Nordrum and Asta August for Totem Films, and comedy drama Mr. Blake At Your Service, starring John Malkovich and Fanny Ardant, for France tv distribution.
"All the territories were there, even from Asia, apart from China. We saw everyone, the Americans, Latin Americans. Asia remained complicated but we still managed to talk to all our buyers with virtual meetings ahead of the market," said Renan Artumak, deputy SVP at France tv distribution. "We really felt the buyers and distributors are looking for projects and are buying. It was very different from last July."
Indeed, buyers reported fierce competition for buzzy Official Selection titles. Out of Italy, for example, there were reportedly two to three serious bids for stand-out titles. Most of the Palme d'Or contenders were tied up for Italian distribution ahead of their Cannes premieres, aside from David Cronenberg's Crimes Of The Future which buyers wanted to see on the big screen before signing on the dotted line.
Bidding wars reportedly broke out around buzzed-about Palme d'Or contenders Close, which sold well for The Match Factory including to A24 for the US; Triangle Of Sadness which ultimately went to Neon for North America, having posted a raft of international deals prior to its premiere; and Holy Spider, which was snapped up by Utopia for the US and by Mubi for UK, Ireland, Latin America and Malaysia. WBI is expected to confirm a fresh raft of deals imminently.
Hot titles outside of Competition included Austrian director Marie Kreutzer's Un Certain Regard title Corsage, which was snapped up by IFC Films for the US and sold into a raft of international territories, while Cannes Critics' Week discovery Aftersun by UK director Charlotte Wells did well for Charades, with a major deal to Mubi for UK-Ireland, France, Germany, Italy, Spain, Latin America, Austria, Turkey and India.
As the industry now recovers from a frenetic month, all eyes are already looking toward the fall festivals in September and beyond that the AFM in November.
"We're already working on our line-up for Toronto, and what we will hold until we hit the AFM. We're very optimistic about where this is all going," said Highland's Olsson.
Physical film markets are back.
Gabriele Niola and Mona Tabarra contributed to this report