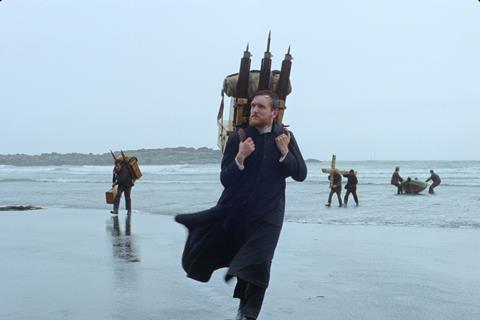 Jan Naszewski's New Europe has closed a number of high-profile deals for Hlynyur Palmason's Godland, which premiered in Cannes Un Certain Regard.
Curzon has taken rights for UK/Ireland, with A Contracorriente buying Spain, Scanorama for Baltics, Vertigo Media for Hungary and One from the Heart for Greece.
Previously confirmed sales were to France (Jour2Fete), Benelux (Imagine), Poland (New Horizons Association) and Australia/New Zealand (Palace).
"Godland is a breathtaking piece of cinema filled with intelligent and subtle reflections on politics, art, history, religion, and nature," said Eleonora Pesci, Curzon Film acquisitions executive. "It was one of the very best films playing in Cannes."
New Europe also sold the director's first two features, Winter Brothers and A White, White Day, as well as his latest short NEST, which premiered at Berlinale 2022.
Godland is set in the late 19th century, when a young Danish priest, played by Elliott Crosset Hove, travels to a remote part of Iceland to build a church and photograph its people. But the deeper he goes into the unforgiving landscape, the more he strays from his purpose, his mission and morality.
International co-production
Godland is produced by Katrin Pors, Eva Jakobsen and Mikkel Jersin of Denmark's Snowglobe and Anton Máni Svansson of Iceland's Join Motion Pictures. The companies previously collaborated on A White, White Day and NEST. Svansson has been collaborating with Palmason since his 2014 short Seven Boats.
Co-producers are Didar Domehri of Maneki Films (France), Anthony Muir and Peter Possne of Film I Väst (Sweden), Mimmi Spång of Garagefilm International (Sweden) and Iceland's Guðmundur Arnar Guðmundsson. Backers include Danish Film Institute, Icelandic Film Centre, CNC, Swedish Film Institute, Nordisk Film & TV Fond, Creative Europe MEDIA, Hornafjörður Municipality, SASS, DR, RUV, Sena, Scanbox and New Europe Film Sales.
Palmason was last in Cannes in 2019 with his second feature A White, White Day which screened in Critics' Week and earned actor Ingvar Sigurðsson the rising star award.
Pálmason is working again with regular collaborators including DoP Maria von Hausswolff, editor Julius Krebs Damsbo and a group of actors he has worked with before: Crosset Hove and Vic Carmen Sonne from Winter Brothers and Sigurðsson from A White, White Day, as well as the director's daughter, Ída Mekkín Hlynsdóttir, who also appeared in A White, White Day and NEST. The cast also features Jacob Hauberg Lohmann, Waage Sandø and Hilmar Guðjónsson.