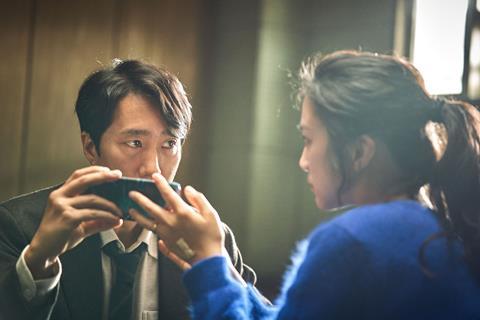 Jerusalem Film Festival (JFF) has revealed the line-up of international competition titles for its 39th edition, which includes several award-winners from this year's Cannes.
Ten features will compete in the international competition of JFF, which is set to host its 39th edition from July 21-31.
These include Hirokazu Kore-eda's Broker and Park Chan-wook's Decision To Leave from South Korea, which respectively picked up best actor for Song Kang-ho and best director for Park. Also selected is Abi Abbasi's Holy Spider, which saw Zar Amir-Ebrahimi pick up best actress, and Marie Kreutzer's Corsage, which won Vicky Krieps a best performance prize in Un Certain Regard.
Also journeying from Un Certain Regard to Jerusalem is Metronom from Romania's Alexandru Belc, who won the best director prize at Cannes. Mia Hansen-Løve's One Fine Morning will also compete at JFF after debuting in Directors' Fortnight, where it won the Europa Cinemas Label. The Dardenne brothers will bring Tori And Lokita to JFF after receiving a 75th anniversary award on the Croisette.
Further Cannes titles include Emin Alper's Burning Days, Albert Serra's Pacification and Kristoffer Borgli's Sick Of Myself as well as Nicolette Krebitz's A E I O U - A Quick Alphabet of Love, which played in competition at the Berlinale.
The total sum of prizes that will be awarded across the various festival competitions amounts to nearly $300,000 (NIS 1 million).
JFF also unveiled 10 titles in both its First Feature Competition and In the Spirit of Freedom Competition, for "films dealing with humankind's universal search for freedom and justice".
The line-up of Israeli competition titles were revealed last week.
As previously announced, Ruben Ostlund's Palme d'Or winner Triangle Of Sadness is set to open this year's JFF on July 21. The 39th edition of the festival is set to feature more than 200 films from 50 countries.
International Competition
A E I O U - A Quick Alphabet of Love (Ger-Fr)
Dir. Nicolette Krebitz
Broker (S Kor)
Dir. Hirokazu Kore-eda
Burning Days (Turk-Fr-Ger-Neth-Greece-Cro)
Dir. Emin Alper
Corsage (Austria-Lux-Ger)
Dir. Marie Kreutzer
Decision to Leave (S Kor)
Dir. Park Chan-wook
Holy Spider (Den-Ger-Swe-Fr)
Dir. Ali Abbasi
Metronom (Rom-Fr)
Dir. Alexandru Belc
One Fine Morning (Fr)
Dir. Mia Hansen-Løve
Pacifiction (Fr-Sp-Ger-Port)
Dir. Albert Serra
Sick of Myself (Nor-Swe)
Dir. Kristoffer Borgli
Tori and Lokita (Fr-Bel)
Dir. Jean-Pierre Dardenne, Luc Dardenne
First Feature Competition
1976 (Chile-Arg)
Dir. Manuela Martelli
Anatolian Leopard (Turk-Ger-Den-Pol)
Dir. Emre Kayis
Falcon Lake (Can-Fr)
Dir. Charlotte Le Bon
La Jauria (Col-Fr)
Dir. Andrés Ramírez Pulido
Love According to Dalva (Fr-Bel)
Dir. Emmanuelle Nicot
Plan 75 (Jap-Fr-Phil)
Dir. Chie Hayakawa
Robe of Gems (Mex-Arg-US)
Dir. Natalia López Gallardo
Rodeo (Fr)
Dir. Lola Quivoron
Silent Land (Pol-Czech-It)
Dir. Agnieszka Woszczynska
The Cathedral (US)
Dir. Ricky D'Ambrose
In the Spirit of Freedom Competition
Another World (Fr)
Dir. Stéphane Brizé
EAMI (Para-US-Get-Neth-Arg-Fr-Mex)
Dir. Paz Encina
Everything Will Be OK (Camb-Fr)
Dir. Rithy Panh
My Imaginary Country (Chile)
Dir. Patricio Guzmán
Myanmar Diaries (Neth-My-Nor)
Dir. The Myanmar Film Collective
Reflection (Ukr)
Dir. Valentyn Vasyanovych
Sons of Ramses (Fr)
Dir. Clément Cogitore
The Eclipse (Nor)
Dir. Natasa Urban
The Territory (Bra-Den-US)
Dir. Alex Pritz
Until Tomorrow (Iran-Fr-Qat)
Dir. Ali Asgari