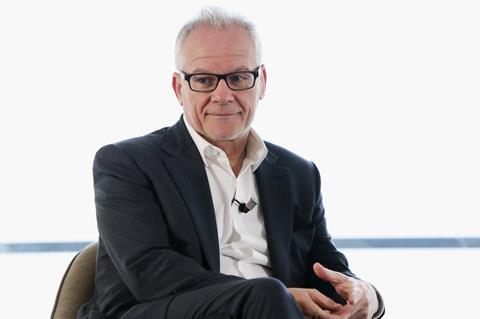 Speaking at the press conference launching the official selection for the 2018 Cannes Film Festival, president Pierre Lescure and general delegate Thierry Frémaux addressed to the event's ongoing dispute with Netflix.
Last night, chief content officer Ted Sarandos confirmed rumours that no Netflix films will be at the festival. Frémaux responded: "We made offers for two of those [Netflix] films, one in competition one outside of competition. It was for the rule to be abided by that the films could be sold to distributors, Netflix didn't wish to release the movies into theatres, so according to the rules those movies will not be in competition. Full stop."
At the 2017 edition of Cannes, festival top brass faced criticism from French cinema owners over the inclusion of two Netflix titles in competition: Bong Joon Ho's Okja and Noah Baumbach's The Meyerowitz Stories. In response, Cannes implemented a rule change that prohibited any film without commitment to theatrical distribution in France from entering its competition.
He added: "The other movie, it has been said by Netflix, [was] The Other Side Of The Wind. For reasons that belong to them, Netflix didn't want to present that film at Cannes. It's a pity."
"Previously, when there were Netflix films in Cannes we were criticised, and now there are not and we will be criticised."
The Other Side Of The Wind was Welles' final film. He died before it could be completed with Frank Marshall, Peter Bogdanovich and original producer Filip Jan Rymsza stepping in to restore and finish the project, a process funded by Netflix.
Lescure added: "The two models [Netflix and a traditional theatrical release] are not sticking together in France. However, why punish Orson Welles? When they have done this tremendous work enabling the film [to finish the film]. The debate, discussion is not finished, it remains opens – it's not as easy as they don't come anymore."
Fremaux added that this is not the end of the Cannes/Netflix debate: "Netflix is welcome to Cannes. There is no polemic, we have discussions. For the time being, we appeal to [CEO] Reed Hasting, [chief content officer] Ted Sarandos, to say 'come back, let's discuss', we'll carry on the dialogue."
Aside from The Other Side Of The Wind, Netflix had four further features that were rumoured to be potential Cannes premieres: Alfonso Cuarón's Roma, Paul Greengrass's Norway, Jeremy Saulnier's Hold The Dark, and Morgan Neville's documentary They'll Love Me When I'm Dead.