Sophia Loren named guest of honour and Kieslowski returns to Cannes Film Festival. No 35mm prints to be screened for the first time.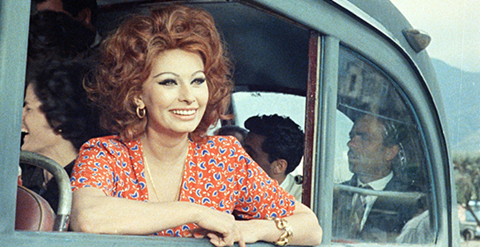 The Cannes Classics line-up of film masterpieces, presented in restored prints, has been announced. The programme comprises 22 features and two documentaries, screened in either 2K or 4K. But for the first time no 35mm print will be screened at Cannes Classics "with regret for some or with celebration for others", according to a statement.
Guest of honour will be Sophia Loren, who won the award for Best Actress at Cannes in 1961 and was president of the jury in 1966. She will be present at the screening of La Voce Humana (2014), directed by Edoardo Ponti, which marks her return to movies.
That same evening, a 4K restoration of 1964 film Marriage Italian Style (Matrimonio all'italiana) by Vittorio De Sica will be screened.
Loren has also accepted to give a masterclass - a conversation which will take place on the stage of Salle Buñuel.
Cannes Classics 2014
• A Fistful of Dollars by Sergio Leone (1964)
• Paris, Texas by Wim Wenders (1984)
• How Yukong Moved the Mountains by Marceline Loridan and Joris Ivens (1976)
• Cruel Story of Youth by Nagisa Oshima (1960)
• Wooden Crosses by Raymond Bernard (1931)
• Overlord by Stuart Cooper (1975)
• Angst by Roberto Rossellini (1954)
• Blind Chance by Krzysztof Kieślowski (1981)
• The Last Metro by François Truffaut (1980)
• Dragon Inn by King Hu (1967)
• Daybreak by Marcel Carné (1939)
• Color of the Pomegranate by Sergei Parajanov (1968)
• Leolo by Jean-Claude Lauzon (1992)
• Gacious Living by Jean-Paul Rappeneau (1965)
• Jamaica Inn by Alfred Hitchcock (1939)
• Les Violons Du Bal by Michel Drach (1974)
• Blue Mountains by Eldar Shengelaia (1983)
• Lost Horizon by Frank Capra (1937)
• The Bitch by Jean Renoir (1939)
• Tokyo Orinpikku by Kon Ichikawa (1965)
Documentaries
• Life Itself by Steve James (2014)
• The Go-Go Boys: The Inside Story of Cannon Films by Hilla Medalia (2014)
8½ (1963, 2h13) will screen as the opening film of the Cinéma de la Plage strand, the programme for which will be announced shortly.