EXCLUSIVE: Wild Bunch sells Michel Hazanavicius's Jean-Luc Godard biopic to UK.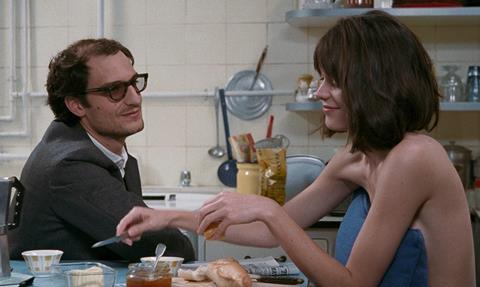 Michel Hazanavicius's Redoubtable, which premiered In Competition at Cannes Film Festival this week, has been picked up for UK distribution by Thunderbird Releasing.
The deal was negotiated by Kevin Chan, acquisitions manager at Thunderbird Releasing, and Emilie Serres of sales agent Wild Bunch.
The Jean-Luc Godard biopic stars Louis Garrel and Stacy Martin. It tells the story of revered French New Wave director Godard's relationship with his wife Anne Wiazemsky.
Screen's Cannes review of the film cited it as a "dazzlingly executed, hugely enjoyable act of stylistic homage" as well as a "poignant story of a dysfunctional marriage and an insightful recreation of a critical and contradiction-ridden period of modern French history".
Chan commented: "Michel Hazanavicius turns the story of Jean-Luc Godard into a playful and honest film about politics, creativity and love, with extraordinary performances from Louis Garrel and Stacy Martin.
"All of us at Thunderbird are thrilled to be working with Wild Bunch on such a delightful, visually stunning film and we can't wait to bring it to a UK audience."
Serres added: "I'm delighted to be working with Thunderbird Releasing on Redoubtable as I know we share the same love for the film - which I think is essential for its UK release."
Earlier this week, Screen revealed that Eve Gabereau, who founded Thunderbird Releasing as Soda Pictures, is set to depart the company.
Last year, Thunderbird's releases include 2016 Cannes Competition titles Toni Erdmann and Paterson.
Read: Cannes Q&A: Michel Hazanavicius on Godard film 'Redoubtable'