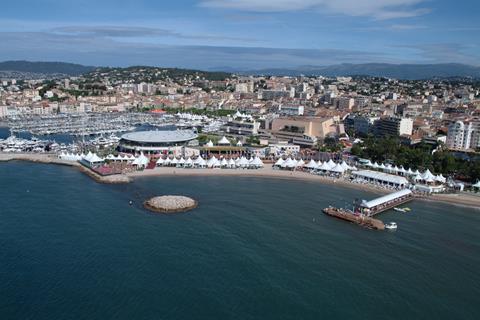 As uncertainty continued on Tuesday (April 14) around the fate of this year's Cannes Film Festival, US buyers and sellers remained committed to a robust corridor of summer market activity that is increasingly looking like it will take place in late June regardless of when the postponed festival may take place.
While ongoing disruption caused by the Covid-19 pandemic has pushed a Cannes reboot originally set for end of June / early July to beyond mid-July with talk of a possible autumn berth, Screen understands the parties behind the virtual market platform comprising independent US and UK companies, the major Hollywood agencies and Wild Bunch, are days away from confirming it will go live in late June.
A separate initiative, the Marché du Film Online, a virtual market platform that Marché du Film is setting up, and will run from June 22.
Once confirmed, the virtual markets will deliver decisive action at a time when the global health crisis and the lack of any apparent overarching exit strategy has turned decisiveness into a rare commodity and left the industry pondering what form Cannes and beyond that the fall festival season could take.
"We need a market in June regardless of Cannes being there just to give us direction," said one leading sales executive on board the Hollywood-led initiative. "We have to commit to it and do our best to make it a success."
What is certain is sellers are continuing to close territories on previously launched titles and are busy assembling new product for buyers as keen as ever to fill slots from now into 2021. Such is the nature of the year-round sales business, albeit a business that welcomes high-profile staging posts from events like Cannes.
As one leading US buyer put it: "We need to be prepared not only to try to continue releasing films now but be ready when theatres open again. You can't shut down the process completely."
"We're open to [virtual] screening and will watch what is shown to us," said another buyer. "Buying a film that 'needed' the launch of Cannes might be difficult seeing it out of context, but we will have to have more imagination."
XYZ Films president of international sales and distribution Tatyana Joffe recently told Screen that in light of theatre closures, the company was working to meet high demand for streaming and TV content "as quickly as possible" and was not even waiting for June.
"This is not to discount the significant importance of Cannes Film Festival for our industry," said Joffe. "We are simply being pragmatic and evolving our business strategy during an unprecedented course of events."
"The US sellers are going to prioritise keeping the marketplace fluid and active over the coming months rather than waiting for any particular festival to create a sales platform," said another leading US sales agent.
Cannes market chief Jerome Paillard is doing just that, and a number of US sellers who spoke to Screen intend to support it.
"Many years of hard work go into making each film and having your film denied the amazing platform which the May Festival de Cannes is, is surely disheartening," said Cinema Management Group head Edward Noeltner. "This is why we will support the festival and the filmmakers and attend the Cannes festival still this year if they are able to secure a later date.
"At the same time, we are grateful that the Marché du Film has already organised a virtual market for end of June which will allow us to showcase our new finished films which were not aiming to be in the festival, as well as introduce new projects currently in pre-production."
With two virtual platforms to choose from, some are still weighing up their options.
"We are welcoming Cannes at a later date and are looking forward to know more about the virtual markets that will be offered to evaluate our options," said Brian O'Shea of The Exchange.