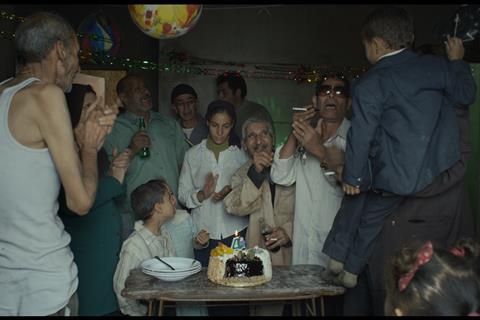 Egyptian director Omar El Zohairy's surreal tragi-comedy Feathers has scooped the €15,000 grand prize at the 60th edition of Cannes' Critics' Week.
It is the debut feature of El Zohairy who cut his teeth working as an assistant director to Youssef Chahine and Yousry Nasrallah.
The story revolves around a family liberated from the control of a tyrannical patriarch after he is turned into a chicken during a magic show. Juliette Lepoutre and Pierre Menahem at France's Still Moving lead produced in co-production with Cairo-based Film Clinic, the Netherlands' Kepler Film and Heretic in Greece.
This year's edition of Cannes Critics' Week showcased 13 features, seven of them in competition, as well as 10 short films.
Romanian director Cristian Mungiu headed up the jury comprising producers Didar Domehri and Michel Merkt, actress/musician Camélia Jordana, and Karlovy Vary International Film Festival artistic director Karel Och.
In other prizes, the jury also handed out the rising star award to Sandra Melissa Torres for her performance in Colombian filmmaker Simon Mesa Soto's drama Amparo. She plays a single mother determined to get her 18-year-old son back from the frontline of Colombia's civil conflict after he is forcibly conscripted into the military.
Best short was awarded to Chinese director Zou Jing's Lili Alone (Duo Li), which follows a young mother living in a remote part of Sichuan who heads to the city to earn money to save her dying father.
In other collateral prizes, the SACD award went to director Elie Grappe and screenwriter Raphaëlle Desplechin for their script for the former's debut feature Olga. The drama revolves around a teenage gymnast torn between Switzerland, where she is training, and her home country of Ukraine. Desplechin's previous writing credits include Our Struggles.
The €20,000 Gan Foundation award for distribution went to Condor for Emmanuel Marre and Julie Lecoustre's Zero Fucks Given, which stars Adele Exarchopoulos as an air hostess hiding inner turmoil.
Greek director Manolis Mavris won the Canal+ short film prize for Brutalia, Days Of Labour.
This 60th edition of the Cannes parallel section marked film critic Charles Tesson's final year as artistic director after a decade at the helm. Ava Cahen, who has been a member of the Critics' Week feature film committee for five years, takes up the role from August 1.