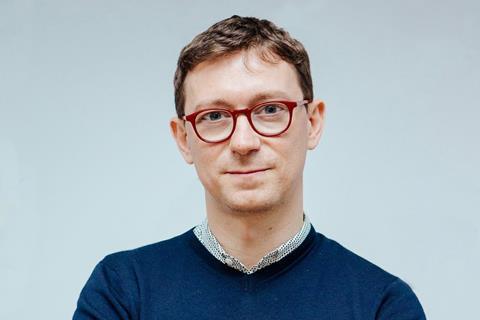 The French Directors Guild (Société des Réalisateurs) has announced the appointment of respected Italian film programmer Paolo Moretti as delegate general of Cannes Directors' Fortnight, replacing its current head Edouard Waintrop who will step down after this year's edition.
Moretti, who was selected by the SRF board after three-round recruitment process, will take up the role in November 2018."The SRF put their full confidence in him to write a new chapter in the history of Cannes Directors' Fortnight," said the directors guild in a statement.
Moretti is a respected programmer who has worked at a number of film festivals, events and institutions across Europe including the Pompidou Centre in Paris, Spain's national film archive La Filmoteca Española in Madrid, the Leeds International Film Festival in the UK, Portugal's cinematheque in Lisbon and One World programme in Prague.
From 2008 to 2011, he was deputy director and advisor in the Venice Film Festival programming department, where he was particularly involved in the selection of the Orizzonti line-up.
From 2012 to 2013, he was a programme advisor at the Rome Film Festival as well as sitting on the selection committees for FIDMarseille and Visions du Réel in Nyon.
Most recently, he has been the head of La Roche-sur-Yon International Film Festival in north-west France as well as director of the town's art-house cinema Le Concorde.
Current Directors' Fortnight chief Waintrop announced he would be leaving the role late last year after a seventh edition at its helm this May.
In his final year, he will oversee the 50th anniversary edition of the parallel, non-competitive sidebarcreated in the wake of the student and worker protests of 1968 as an alternative to the Official Selection which was perceived as being in the hands of the establishment.
Waintrop's tenure as Directors' Fortnight, which began in 2012, is widely regarded as a success. The respected critic, who previously ran the International Film Festival of Fribourg in Switzerland, is credited with elevating the status of the parallel section and in recent years giving the Cannes Official Selection a run for its money.
Previous artistic directors comprise founding chief Pierre-Henri Deleau, Marie-Pierre Macia (the only female chief to date), Francois Da Silva, Olivier Père and Frédéric Boyer. There had been talk within the industry in France and internationally that a female director would be appointed amid the current debate on gender equality in the film industry but this has not materialised.