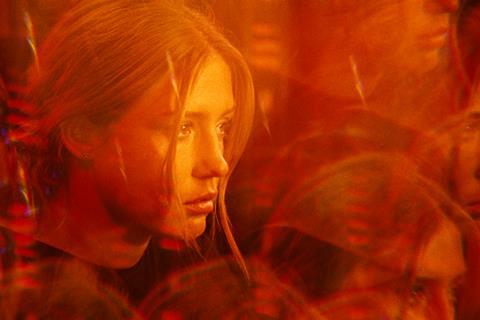 UK director Alex Garland's horror film Men and French filmmaker Mia Hansen-Løve's romantic drama One Fine Morning are among the 24 features due to world premiere in the 54th Cannes Directors' Fortnight, running May 18-27.
The non-competitive Cannes parallel section, run by French directors guild the Société des Réalisateurs (SRF), unveiled 23 of the selected titles at a news conference at the Forum cultural centre in central Paris on Tuesday morning. A final Asian feature will be revealed in the coming days along with the short and medium-length film line-up.
The section also announced that Kelly Reichardt will be feted with the SRF's Carrosse d'Or, celebrating innovative and daring directors. She follows in the footsteps of Frederick Wiseman last year and previous honorees John Carpenter, Martin Scorsese, Werner Herzog, Jane Campion and Naomi Kawase.
Scroll down for the full selection
It marks the final selection by the section's outgoing artistic director Paolo Moretti, whose departure was announced during the Berlin Film Festival in February. Moretti originally took up the role for the 2019 edition.
In the statement announcing Moretti's departure, the SRF said the move was part of a wider overhaul of the sidebar, that was originally launched in 1969 in the wake of the political unrest of 1968.
SRF co-president Frédéric Farrucci shut down questions in Tuesday's press conference on what shape this restructuring might take, however, saying the body wanted to focus on this year's line-up.
In the meantime, Moretti and his selection team have delivered an eclectic, international selection, mixing auteur fare, genre and first films, which make up a third of the line-up.
The section opens with Italian director Pietro Marcello's French-language period fantasy drama Scarlet, as previously announced, and closes with French director Nicolas Pariser's comedy whodunnit The Green Perfume set against the backdrop of France's Comédie-Française theatre.
Oscar-nominated UK director and writer Garland makes his Cannes and A-list festival debut with Men, with previous award-winning films Ex Machina and Annihilation having done the rounds of genre festivals worldwide.
Jessie Buckley stars as a woman who retreats to the English countryside following the death of her husband. There, she attracts the unwanted attention of different men in the village where she is staying, all played by Rory Kinnear. Other cast members include Paapa Essiedu and Gayle Rankin.
A24 financed and is distributing the film produced by Eli Bush for A24 with Andrew Macdonald and Allon Reich at the UK's DNA.
In a strong showing for the UK, the selection also features Mark Jenkin's 1970s-set psychological horror Enys Men, starring Mary Woodvine as a wildlife volunteer who takes up a post on an uninhabited Cornish island. It follows his break-out feature Bait, which premiered in Berlin and won him the Bafta for outstanding debut by a British writer and director.
Further elevated genre fare in the line-up includes Irish directorial duo Anna Rose Holmer and Saela Davis's gothic, psychological drama God's Creatures, starring Emily Watson and Paul Mescal, and Tunisian director Youssef's Chebbi's Carthage-set detective drama Ashkal.
There is a strong female director presence, particularly out of France, which is represented by Mia Hansen-Løve's One Fine Morning, Alice Winocour's Paris Memories and Léa Mysius's The Five Devils, and renowned writer Annie Ernaux's documentary The Super 8 Years, a joint work with her son David Ernaux-Briot.
Hansen-Løve made her Cannes debut in Directors' Fortnight in 2007 with first film All Is Forgiven. Her eighth film One Fine Morning was described by the Directors' Fortnight team as a semi-autobiographical tale. Léa Seydoux stars as a young woman juggling single motherhood, a father suffering from a neurodegenerative disease, and an unexpected love affair with an old friend.
Paris Memories is Winocour's fourth film. Virginie Efira stars as a woman piecing together her fragmented memories of being caught up in a terror attack in Paris. It is Winocour's first time in Directors' Fortnight after showing her first film Augustine in Critics' Week, second film Maryland in Un Certain Regard and third feature Proxima at Toronto.
Mysius also makes her Directors' Fortnight debut with The Five Devils, starring Adèle Exarchopoulos stars as the mother of a girl with a hyperacute sense of smell. Mysius's first feature Ava premiered in Cannes Critics' Week in 2017. The director also takes a co-writing credit this year on Claire Denis's Palme d'Or contender Stars At Noon.
Two actresses will premiere feature directorial debuts: Chilean actress Manuela Martelli with 1976, exploring the impact of Augusto Pinochet's dictatorship through the tale of a middle-class woman touched by its violence, and Canada's Charlotte Le Bon with rural Quebec, summer holiday coming of age romance Falcon Lake.
Actor Thomas Salvador will also unveil his second feature in the director's chair, The Mountain, in which he also stars as a man who abandons his life in Paris to live in a tent in the mountains.
Other female-directed film works include Tunisian director Erige Sehiri Under The Fig Trees, about a group of teenagers working as fig pickers over the summer, while Verena Paravel co-directs documentary De Humani Corporis Fabrica with Lucien Castaing-Taylor.
A third of the selection is made up of first films including Spanish director Elena Lopez Riera's The Water, revolving around a legend in a small Spanish town that some women are predestined to disappear with each flood; US director Owen Kline's Funny Pages; Ukrainian director Dymtro Sukholytkyy-Sobchuk's Pamfir, which was whisked out of his country in the early days of the Russian invasion; Lebanese director Ali Cherri's Sudan set drama The Dam, and Columbian director Fabian Hernández's A Male.
Aside from Garland, Hansen-Løve and Winocour, other more established filmmakers in the line-up include French director Philippe Faucon with Les Harkis, exploring the fate of Algerians who served in the French army in the Algerian War of Independence in the 1950s; Switzerland's Lionel Baier with social satire Continental Drift (South) and Portugal's Joao Pedro Rodrigues with Fogo-Fátuo. Rodriguez won best director in Locarno in 2016 for The Ornithologist.
Directors' Fortnight 2022 Selection
Scarlet (Fr-It) (opening film)
Dir. Pietro Marcello
1976 (Chile-It)
Dir. Manuela Martelli *
The Dam (Fr-Sudan-Qat-Ger)
Dir. Ali Cherri *
The Super 8 Years (Fr) (doc)
Dir. Annie Ernaux, David Ernaux-Briot *
Ashkal (Tun-Fr)
Dir. Youssef Chebbi *
The Five Devils (Fr)
Dir. Léa Mysius
De Humani Corporis Fabrica (Fr-US) (doc)
Dir. Véréna Paravel, Lucien Castaing-Taylor
Continental Drift (South) (Switz)
Dir. Lionel Baier
The Water (Sp)
Dir. Elena López Riera *
Enys Men (UK)
Dir. Mark Jenkin
Falcon Lake (Can-Fr)
Dir. Charlotte Le Bon *
Fogo-Fátuo (Port)
Dir. João Pedro Rodrigues
Funny Pages (US)
Dir. Owen Kline *
God's Creatures (Ire-UK)
Dir. Anna Rose Holmer, Saela Davis
Les Harkis (Fr)
Dir. Philippe Faucon
The Mountain (Fr)
Dir. Thomas Salvador
Men (US-UK)
Dir. Alex Garland (Special Screening)

Pamfir (Ukr-Fr)
Dir. Dmytro Sukholytkyy-Sobchuk *
Paris Memories (Fr)
Dir. Alice Winocour
Under the Fig Trees (Tun-Fr-Switz)
Dir. Erige Sehiri

One Fine Morning (Fr)
Dir. Mia Hansen-Løve
A Male (Col-Fr-Neth-Ger)
Dir. Fabian Hernández *
The Green Perfume (Fr) Closing Film
Dir. Nicolas Pariser
*First film