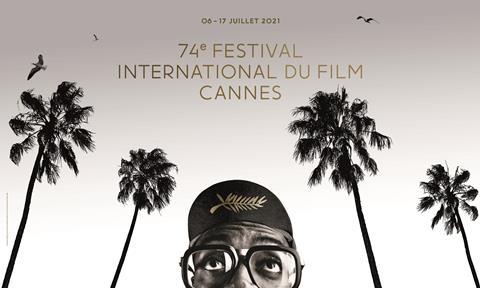 US filmmaker Spike Lee is the star of the 2021 Cannes Film Festival poster, ahead of his duties as this year's jury president.
Lee was to have presided over the 2020 edition of the festival until it was cancelled due to the pandemic but will return to oversee the Competition jury of the 74th edition, which takes place from July 6-17.
Lee will be the first black jury president in the history of the festival, although Mauritanian-born Malian director Abderrahmane Sissako presided over the Un Certain Regard jury in 2003.
The festival said it had selected Lee as the face of the poster: "For that curious look he is going to put on the work of his fellow filmmakers who bring us news of the World – of theirs and surely a little bit of ours too… For his mischievous eye which, despite constantly questioning and incessantly rebelling for nearly four decades, never neglects entertainment."
The Brooklyn-raised director, screenwriter, actor, editor and producer has a long relationship with Cannes. He was first on the Croisette in 1986 with his debut feature She's Gotta Have It, which premiered in parallel section Directors' Fortnight, winning the Prix du Jeunesse. The award aimed at films in Critics' Week and Directors' Fortnight ran from 1982 to 2002. It was also won by international filmmakers including Lynne Ramsay and Baz Luhrmann.
He returned to premiere Do The Right Thing and Jungle Fever in Competition in 1989 and 1991, respectively. He then debuted comedy drama Girl 6 out of competition in 1996 and was back in Directors' Fortnight in 1999 with crime drama Summer Of Sam.
In 2002, he took part in Un Certain Regard with Ten Minutes Older, a portmanteau film involving seven directors also including Jim Jarmusch, Wim Wenders and Aki Kaurismäki. Lee directed a segment entitled The Trumpet.
After a 22-year break, Lee returned to Competition with political thriller BlacKkKlansman in 2018, which won the Grand Prix and went on to win Lee his first Oscar last year for best adapted screenplay.
A full look at the poster can be seen below.