Father and son wine tour tale reunites directorial duo Benoit Delépine and Gustave Kervern with Gérard Depardieu and Benoît Poelvoorde.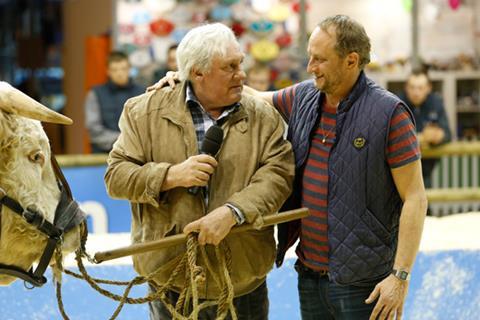 Le Pacte has picked up sales on Benoit Delépine and Gustave Kervern's latest collaboration Saint Amour, starring Gérard Depardieu and Benoît Poelvoorde as a farmer and his son who bond and find love on an eventful wine tour.
Delépine and Kervern last worked with Depardieu on their 2010 comic road movie Mammuth, which premiered in Berlin, was a breakout arthouse hit in France and sold well internationally.
Poelvoorde is a frequent collaborator with Delépine and Kervern, starring most recently as middle-aged punk in Le Grand Soir – which won Un Certain Regard's Grand Jury Prize in 2012.
In Saint Amour, Poelvoorde plays disheartened cattle breeder Bruno who is attending the Paris International Agriculture Show with his father Jean, played by Depardieu.
The latter is hoping their prize bull Nabucodonosor will finally take top honours at the event and that the win will spur Bruno to take over the family farm.
Every year, Bruno does the rounds of the wine stands. He has often dreamt of taking a proper tour of France's vineyards but never sets foot outside the show.
On the spur of the moment, Jean suggests they go on a real wine tour. Accompanied by a quirky taxi driver, they set off in the direction of France's best wine regions.
The Le Pacte deal makes a break for Delépine and Kervern with their habitual sales company Funny Balloons.
"It just made sense for Le Pacte to handle this film… everyone's on good terms," said Le Pacte's sales chief Camille Neel.
The film is co-produced by Jean-Pierre Guérin's JPG Films and the filmmakers' No Money Productions.
Festival trio
Le Pacte's Cannes slate also include a trio of festival titles including Guillaume Nicloux's Palme d'Or contender Valley of Love, co-starring Gérard Depardieu and Isabelle Huppert as a divorced couple who head to America's Death Valley at the request of their late son.
The company is also selling Jaco Van Dormael's The Brand New Testament, starring Poelvoorde as an odious, Brussels-based God at odds with his rebellious 10-year-old daughter, which premieres in Directors' Fortnight. It is Van Dormael's first feature since his English-language fantasy sci-fi drama Mr. Nobody.
Le Pacte is also handling Laurent Larivière's debut feature I Am a Soldier, which will premiere in Un Certain Regard.
It stars Louise Bourgoin as an unemployed who woman takes a job in her uncle's kennel, which she discovers is a hub for a dog-trafficking ring from Eastern Europe.
The company will also market premiere Marion Vernoux's romantic comedy Half Sister, Full Love starring Virginie Efira, Géraldine Nakache as two sisters trying to comfort a friend grieving the recent death of his brother, while coping with their own personal dramas.