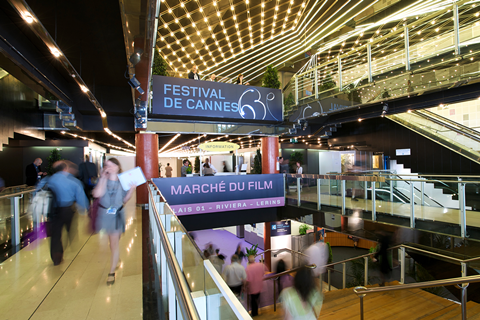 The Cannes Marché has officially confirmed that it will organise four days of virtual 'Pre-Cannes Screenings' at the end of May, ahead of the official market alongside the Cannes Film Festival which is scheduled to run July 6-15.
The exact dates are still to be confirmed, but the screenings will start no earlier than May 24.
"Due to the unusually long delay between the EFM in Berlin and the Marché du Film in Cannes, many international sales agents have expressed the need for an intermediate event in the spring, which will allow them to do business and to network virtually, while awaiting the big rendez-vous in July when the film industry will meet up again in large numbers," the market said in a statement.
"The Marché du Film is therefore organising the 'Pre-Cannes Screenings', four days of online screenings, end of May, on a platform that will exclusively offer virtual booths for sales companies and screening rooms in streaming. Access to this platform will be strictly reserved to buyers already registered with the Marché du Film (either with an online or an onsite accreditation) and this at no extra cost."
The main market will take place in July with its usual activities, including stands, screenings, the Village International, networking programme and conferences, said the Marche.
Executives unable to travel will still be able to take part via virtual screenings of certain films, conferences that will be broadcasted simultaneously and some of the networking programmes.
Registration for the market is already open for both the onsite event in Cannes in July and the virtual screenings.
Rumours of a virtual Marché event in late spring for market titles first surfaced in February amid concerns over whether Cannes's July dates will go ahead and the gap between the EFM as well as questions over who will be able to travel to France this year if the physical festival and market does take place as planned.