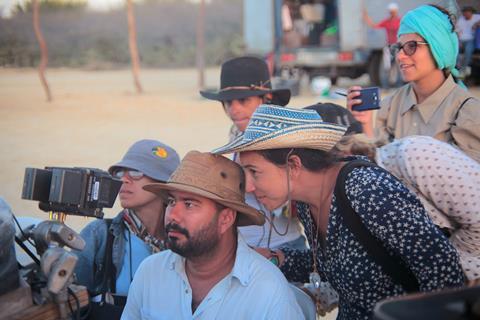 Colombian filmmaker Ciro Guerra has been appointed jury president for the Critics' Week section at Cannes 2019.
Alongside Guerra on the Critics' Week jury are French-British actress Amira Casar; French producer Marianne Slot; Congolese film journalist and critic Djia Mambu; and Italian screenwriter and director Jonas Carpignano.
The jury will award the Critics' Week grand prize for best feature, the discovery prize for short film and the rising star award for best actor or actress.
Guerra has made four shorts and four features, often exploring questions of society and identity in his native Colombia. His second feature The Wind Journeys played in Un Certain Regard at Cannes 2009. Third feature Embrace Of The Serpent then debuted in Directors' Fortnight in 2015, winning the Art Cinema award before becoming the first Colombian film to be nominated for the best foreign film Oscar the following year. Last year Birds Of Passage, which he co-directed with Cristina Gallego, opened the Directors' Fortnight section.
He is currently in post-production on Waiting For The Barbarians, an adaptation of a J.M. Coetzee novel. Screen broke the news of Johnny Depp's involvement in the film at Cannes last year, with Mark Rylance and Robert Pattinson also in the cast.
The 58th edition of Critics' Week will take place from May 15 to 23, with the programme for the section revealed on April 22. Cannes 2019 runs from May 14 to 25, and will announce its official selection on April 18.
Mexican filmmaker Alejandro González Iñárritu will chair the main jury at this year's event, with Capernaum director Nadine Labaki of Lebanon heading the Un Certain Regard jury and French filmmaker Claire Denis leading the Cinéfondation jury.