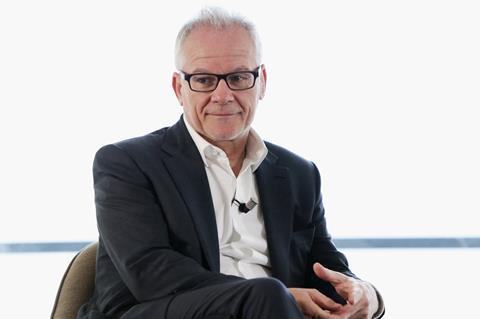 Thierry Frémaux, general delegate of the Cannes Film Festival, is set to talk about the role and evolution of film festivals as part of the Rome Flm Fest's Close Encounters strand in October.
The festival, which takes place from October 18-28, has also added a talk with Cate Blanchett, where she will speak about her career as well as her social and environmental initiatives.
Further sessions include novelist and author Jonathan Safran Foer on the relationship between literature and cinema; and Iranian photographer and video-artist Shirin Neshat, who won a Silver Lion for best director at the Venice film festival for Women Without Men in 2009.
Previously announced participants in the Close Encounters series include Martin Scorsese, Sigourney Weaver, Giuseppe Tornatore and Pierre Bismuth.
Fremaux spoke to Screen about the festival's relationship with Netflix and the representation of women at the event ahead of Cannes in May. They have since become the hottest topics on this year's festival circuit.
Lifetime achievement
Isabelle Huppert will receive a lifetime achievement award to be presented by Italian actor Toni Servillo. She will also take part in a Close Encounters session and discuss the films that have influenced her life and career.
Scorsese was also previously announced as a recipient of the lifetime achievement award.
Several further additions to the festival programme includeThe Vice Of Hope from Edoardo De Angelis (Indivisibili); Charles Ferguson's History Channel series Watergate; and two screenings commemorating 'Black Saturday', when the German gestapo rounded up Jews in the Roman ghetto in 1943 - Ruggero Gabbai's La Retata. Roma, 16 Ottobre 1943 and Pietro Suber's 1938 – Quando Scoprimmo Di Non Essere Più Italiani.
The full programme for this year's festival will be announced on October 5.