Fledgling NY outfit Grasshopper Film has taken rights to Oliver Laxe's Morocco-set Western.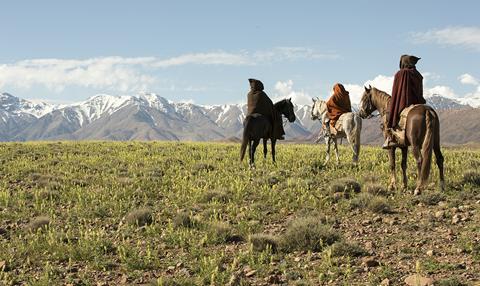 New York-based Grasshopper Film has acquired US rights to Oliver Laxe's Cannes-winning film Mimosas.
The Arabic language Western, which won the Critics Week Grand Prize at Cannes in May, follows a caravan carrying a dying sheikh who wished to be buried with his loved ones in the Moroccan Atlas Mountains.
The US deal was negotiated by Ryan Krivoshey, founder and president of Grasshopper Film, with Fiorella Moretti of Paris-based sales agent Luxbox.
Krivoshey commented: "Mimosas is an enigmatic, gorgeous work that will enthrall audiences around the country, much as it did in Cannes. We are extremely excited to be working with Oliver, Fiorella, and the entire Luxbox team on this release."
Laxe's feature debut You All Are Captains premiered at Cannes in 2010, winning the Firpresci prize.
Launched earlier this year, Grasshopper Film's upcoming slate includes Laura Israel's documentary Don't Blink – Robert Frank, Robert Greene's Sundance title Kate Plays Christine, and Pietro Marcello's Lost And Beautiful.
Previous releases include Asghar Farhadi's Fireworks Wednesday and Bi Gan's Kaili Blues.