MAY 16 UPDATE: Marvel's latest becomes the biggest film of the year internationally with $645m.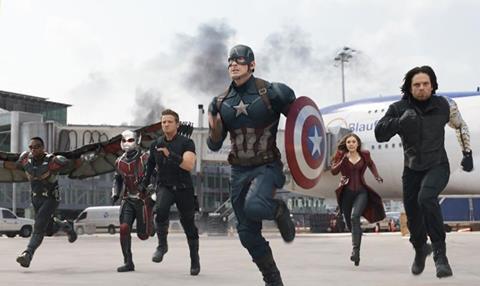 WALT DISNEY STUDIOS MOTION PICTURES INTERNATIONAL
Captain America: Civil War continued to dominate the global box office as it reached $940.9m with an estimated $156.8m weekend.
Internationally, Marvel's latest is now the biggest film of the year with $645m after only 19 days in release following an $84.2m weekend from its 55 territories.
In China, Civil War is now the third highest grossing Disney release there with $155.8m after only ten days of release. South Korea ($60.1m), the UK ($46.7m), Mexico ($39.2m) and Brazil ($32.9m) make up its top five overseas territories.
At IMAX screens across the world, Civil War has grossed $64m after an $11m weekend, which included $6m from its 577 international screens.
This weekend saw Marvel outings hit the $10bn mark from 13 films over the course of nine years.
Having passed $800m worldwide on Friday [May 13], The Jungle Book has now swung to $828m at the global box office.
Overseas, the live-action remake took an estimated $15.2m from its 50 territories for $516.3m. It became the biggest film of the year to date in the UK with $56.5m, while its Chinese run formally came to an end with a stunning $151m.
Zootopia hopped to a further $4.7m from its 17 territories for $638m overseas and a global haul of $969.8m. Japan has now become its second biggest international market with $35.2m.
SONY PICTURES RELEASING INTERNATIONAL
The Angry Birds Movie took off with an estimated $43m from its 74 markets on its international bow.
Russia led the way with $5.7m, while the UK provided $3m, Germany and Mexico took $2.9m each and Brazil flew to $2.7m.
The video game adaptation lands in China and South Korea next week alongside its North American release.
In its 14 markets, Jodie Foster's Money Monster banked an estimated $4.7m.
Following its premiere at Cannes, the film opened with $1.6m in France from 421 screens and took $1.2m in Italy from 346 screens.
FOX INTERNATIONAL
UPDATE: The Wailing recorded Fox's biggest opening weekend of all time in South Korea with a terrific $16.5m from 1,481 screens.
That also marks the eighth biggest opening of all time for a local title and director Na Hong-jin's biggest opening weekend ever, surpassing the lifetime haul of his previous film, The Yellow Sea.
Eddie The Eagle, Kung Fu Panda 3 and The Revenant stand at $17.2m, $375.3m and $348.4m, respectively.
UNIVERSAL PICTURES INTERNATIONAL
UPDATE: Opening in 19 new territories, Neighbors 2: Sorority Rising added $9.1m from its 34 territories for $20m to date.
Hong Kong was the top new opening with $461k from 41 dates, while the UK held at number four with $1.6m for a ten-day tally of $5.4m and Germany took $1.8m for $3.6m.
Along with its North American now, the comedy sequel opens in 10 more territories next weekend.
The Huntsman: Winter's War grossed $2.2m from its 60 territories for $109.7m, ahead of its final theatrical release on May 27.
The Witch scared up a $678k opening in Spain to lift its international tally to $8.1m, while Hail, Caesar! opened in its final market of Japan and took $161k for an international haul of $33.1m.
Ride Along 2, The Boss and My Big Fat Greek Wedding 2 have amassed $33.4m, $12.3m and $29.2m, respectively.
LIONSGATE INTERNATIONAL
Criminal is up to $12m overseas after an estimated $7.5m weekend from its 15 markets, according to ComScore.
The Divergent Series: Insurgent and Gods Of Egypt have grossed $94.1m and $111.1m, respectively.
WARNER BROS PICTURES INTERNATIONAL
Batman v Superman: Dawn Of Justice stands at $541.6m, with China still its top overseas market at $95.5m
How To Be Single has grossed $64.3m.
STUDIOCANAL UK
On its UK bow, Our Kind Of Traitor unearthed an estimated $539k.