MAY 9 UPDATE: Marvel's latest powers to $401.8m global weekend with its North American bow.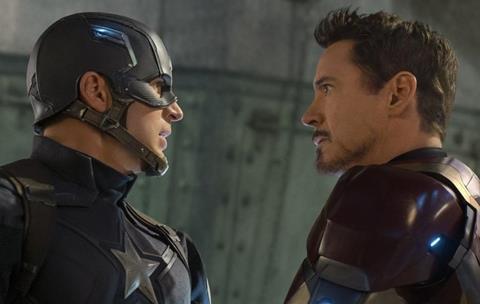 WALT DISNEY STUDIOS MOTION PICTURES INTERNATIONAL
Captain America: Civil War is nearing $700m at the global box office after only 12 days in play.
Marvel's latest powered to a $401.8m global weekend for $678.4m, with $220m coming from its 55 territories for an overseas tally of $496.6m.
Of the overseas openings, China led the way with $95.8m for the second biggest three-day Hollywood opening of all time, while India and New Zealand posted the second biggest Marvel opening weekend of all time.
Holdover-wise, Civil War is already the seventh biggest industry release of all time in South Korea with a mighty $53.9m, while it posted strong holds across Latin America and Europe.
The UK ($40.4m), Mexico ($34.3m) and Brazil ($25.2m) currently round off Civil War's top five overseas territories to date.
At IMAX screens, Marvel's latest grossed $31.3m globally for $45m to date. In China, its three-day opening IMAX haul of $10m from 283 screens is level with the current record holder, Transformers: Age Of Extinction.
Disney has now surpassed $1bn at the North American box office, $2bn at the international box office and $3bn at the global box office for 2016 in record-breaking time.
The Jungle Book continued its excellent run with a global weekend of $46m for $776.2m to date.
Internationally, it stands at $491.2m following a $24.1m weekend from its 52 territories. China continued as its biggest overseas result as it added $4.3m for $147.3m and is currently Disney's third biggest film in the market.
It opens in South Korea on June 2 and Japan on Aug 11.
Zootopia hopped to a further $5.7m from its 36 territories for $628.8m overseas, and a stunning $956.4m worldwide.
Japan fell only 22% on its way to an extra $3.7m for a local tally of $27.8m after three weeks in play.
EDKO FILMS
Romantic comedy sequel Finding Mr Right: Book Of Love added an estimated $13m from its seven territories for $95m to date, according to ComScore.
UNIVERSAL PICTURES INTERNATIONAL
UPDATE: Neighbors 2: Sorority Rising launched with an international box of $8m from its 16 territories.
The comedy sequel opened with $2.4m from 484 dates in the UK, $1.8m in Australia from 246 dates and $1.5m in Germany from 524 dates. It has 40 more territories to open over the next couple of months.
Opening across Central America, The Huntsman: Winter's War grossed $4.2m from its 66 territories for $105.9m to date overseas, and $146.7m worldwide.
The fantasy prequel/sequel charted second in Panama with a $496k bow from 140 dates. It opens in its final territory of Japan on May 27.
The Boss and My Big Fat Greek Wedding 2 stand at $11.9m and $29m, respectively, while Ride Along 2 opened with $309k in Spain for Kevin Hart's best debut in the territory and $32.7m to date internationally.
CJ ENTERTAINMENT
Action noir Phantom Detective uncovered an estimated $5.6m on its South Korean bow.
PATHE INTERNATIONAL
Opening in the major territories of the UK and Australia, Florence Foster Jenkins sung to an estimated $1.95m from its three territories overall.
GAUMONT
Laurent Tirard's romantic comedy Up For Love grossed an estimated $1.8m debut in France.
FOX INTERNATIONAL
UPDATE: From its 19 Fox markets, Eddie The Eagle brought in a further $1.3m for $16.3m to date.
Kung Fu Panda 3 and The Revenant stand at $375.5m and $345.7m, respectively.
WARNER BROS PICTURES INTERNATIONAL
Batman v Superman: Dawn Of Justice posted a $909k weekend from its 1,923 screens for $540.6m to date.
How To Be Single stands at $63.5m.