France animation event eyes permanent home in Bordeaux.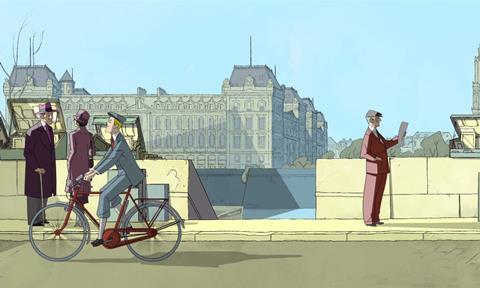 Madrid-based sales company Latido Films is looking to ramp up its animation offering.
Speaking to Screen during last week's Cartoon Movie co-production forum in Bordeaux, Latido's managing director and founding partner Antonio Saura explained: "I felt that there was something missing in our animation line-up until now, something that corresponded with the other types of movies we were carrying and which involved more adult, entertaining, intelligent movies with a niche quality."
Latido Films' sales roster to date has included animation titles Pacific Pirates, Birds Of Paradise, and A Valiant Rooster.
The company will now be handling sales on Salvador Simó Busom's Bunuel In The Labyrinth Of The Turtles which the director pitched in Bordeaux as a project in development with Manuel Cristóbal's Sygnatia Films and their joint company The Glow Animation Studio .
The adaptation of the graphic novel by Fermin Solis centres on a chapter in the life of the iconic film director Luis Buñuel in 1930 when he was offered the chance to make a documentary about one of the poorest areas in Spain, Las Hurdes, but didn't have the money.
However, his friend, the sculptor Ramon Acin buys a lottery ticket with the promise that if he wins he will pay for the film; he wins and keeps his promise.
Support for the film has already come from broadcasters TVE, Aragon TV, and Movistar+, and Cristóbal revealed in Bordeaux that Bruno Felix's Amsterdam production studio Submarine has come onboard as a co-producer
Saura said that a second pickup aimed at an adult audience will be Memoirs Of A Man In Pyjamas (Memorias De Un Hombre En Pijama), currently in production under the direction of Carlos Fernández de Vigo and based on Paco Roca's comic of the same name about a confirmed 40-something bachelor whose childhood dream of working from home in his pyjamas is thrown into question when he falls in love with a young woman.
Barcelona-based animation studio Moonbite Games is handling the animation for the co-production by Dream Team Concept, Lady Bug Films and Hampa Films. Paco Roca's 2007 tragicomic graphic novel Wrinkles was produced by Manuel Cristóbal in 2011 and took home two Goyas for Best Animated Feature and Best Adapted Screenplay in 2012.
A third addition to Latido's catalogue is Alberto Vasquez and Pedro Rivero's Psiconautas which won the Goya for Best Animated Feature at this year's awards ceremony. Vasquez also won the Goya for Best Animated Short for Decorado at the same time.
Vasquez's new adult animation project – Unicorn Wars, about teddy bears in an eternal bloody battle with unicorns – was pitched at Cartoon Movie by producer Uniko's French partners Nicolas Schmerkin (Autour de Minuit) and Thibaut Ruby (Schmuby Productions).
Psiconautas, which is described as being a cross "between Lewis Carroll and Guillermo Del Toro" will be released theatrically by Eurozoom in France on May 24.
"The kind of projects Spanish animators are offering have a very specific and Spanish look, it's classic animation with an edge," Saura observed.
Former Pixar animator preparing debut feature
At Cartoon Moovie former Pixar character animator Carlo Vogele who worked on Toy Story 3, Monsters University and The Good Dinosaur, pitched his debut feature Icarus which is being planned by the Iris Group's Nicolas Steil as a co-production between Luxembourg, France, Belgium and Germany.
The screenplay by Vogele, who studied at the Gobelins School of Animation and CalArts, and Isabelle Andrivet centres on three cheerful journalists Zeus, Poseidon and Aphrodite of Gods & Gossip Magazine writing a myth set in ancient Crete about Icarus, his inventor father Daedalus, Prince Theseus and the Minotaur.
Production is set to begin this May for delivery for May 2020.
Bordeaux likely to remain home of Cartoon Movie
In a review of the 19th edition of Cartoon Movie, Cartoon's general director Marc Vandeweyer commented: "I think we are going to be staying in Bordeaux for several years with the event because you have the attractiveness of [the regional film fund for animation] Magelis and the dynamism of Bordeaux, but we, of course, still have to negotiate and confirm this with the local partners."
Vandeweyer added that some of the Cartoon Movie delegates had had an opportunity to meet the Mayor of Bordeaux, Alain Juppé, who is looking to attract more animation companies to set up shop in the Bordeaux Metropole region.
"I believe that this factor played a role in the increase of delegates – by 14% - to Cartoon Movie this year," he suggested.
Vandeweyer pointed out that the selection of projects from Georgia, Ukraine and Israel had been possible for the first time this year because of these countries' partial agreements with the European Commission's Creative Europe MEDIA sub-programme.
Thus, Tbilisi-based Lira Production Studios was able to present the concept for the first ever Georgian feature-length animation film, Geno, to a wider international audience after it was previously shown at the Cartoon Springboard in Halle last year, while Ukraine's Animagrad and Film UA Group pitched Alexandra Ruban's family feature Mavka. The Forest Song.
Tel Aviv-based Spiro Films came to Bordeaux to find partners for Indecisia, a family feature set in a fantastic land in which candy grows everywhere, clothes change colour by themselves and there are no decisions to be made.