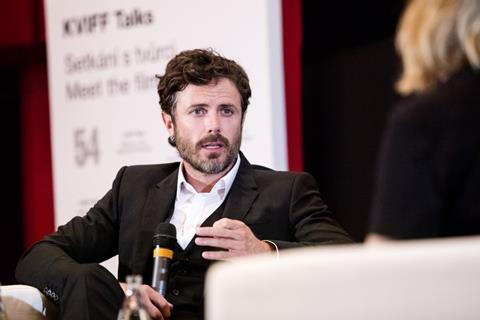 Oscar-winning US actor and filmmaker Casey Affleck has predicted a "huge upswing" in the quality of independent film in the near future thanks to a new generation of content creators, in a discussion at Karlovy Vary International Film Festival (KVIFF) on Sunday June 30.
Despite noting that "there have been better times" than the past 10 years in the independent sector, Affleck said, "the new wave of filmmakers who are now 18, 19, 20 – those kids are making great stuff, and there's going to be a huge upswing."
"We're going to have movies from around the world looking at different cultures from the inside out, because the process of making movies is totally demystified for everybody" he said.
He compared current innovation in filmmaking to the birth of hip-hop music, saying the latter "was started by people who didn't know how to play instruments because they didn't have parents who would buy them and teach them – they just took a record and started literally scratching on it, and made their own music."
"You'll see that with movies" he continued. "People are like, 'I don't really care about how you think I'm supposed to make a movie, I'm going to use my phone and make whatever movie I want'. And then we're going to see some great stuff."
Affleck was attending Karlovy Vary alongside lead actor Anna Pniowsky with Light Of My Life, his sophomore directorial feature which launched in Panorama in Berlin this year.
As well as talking about the future, he also looked back over his career of over 25 years in the independent industry as an actor, writer, director and producer.
He cited working with Andrew Dominik on 2007 title The Assassination Of Jesse James By The Coward Robert Ford as a key experience, describing Dominik as "one of the great filmmakers" who is "stuck in the current challenges of independent film", namely that as it gets less expensive to make features, there is a demand for content made at even lower budgets.
After winning the Oscar for best actor for Manchester By The Sea in 2017, Affleck also received the honourary President's Award from KVIFF that year.
His next project is a role opposite Vanessa Kirby, Katherine Waterston and Jesse Plemons in The World To Come, from The Childhood Of A Leader and Vox Lux writer Mona Fastvold, which Affleck is also producing.