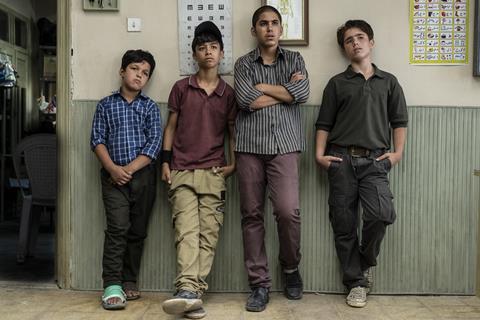 Paris-based Celluloid Dreams has boarded international sales rights to Majid Majidi's Sun Children, ahead of its world premiere in competition at the 77th Venice Film Festival (September 2-12).
The French sales firm previously handled the Iranian director's feature debut Baduk, which screened in Directors' Fortnight at Cannes in 1992.
His latest feature centres on 12-year-old Ali and his three friends, who take small jobs and commit petty crimes to make fast money. When Ali is entrusted to find some underground "hidden treasure", he recruits his gang to help. But to gain access to a tunnel leading to the treasure, they must enrol at a nearby charitable institution known as the Sun School, which attempts to educate street kids and child labourers.
Majidi is also the co-writer with Nima Javidi, and produced the feature with Amir Banan.
The film marks the Venice debut for Majidi, whose family drama Children Of Heaven was nominated for the best foreign-language film Oscar in 1998 and whose second feature The Father won the jury prize at San Sebastian in 1996. In addition, his family drama The Song Of Sparrows played in competition at the Berlinale in 2008, winning the Golden Bear for actor Mohammad Amir Naji.
The filmmaker said that the young cast of his latest feature were all previously "child labourers and all proved to be astonishing and extremely intelligent performers".
"Sun Children is the story of children who must work to support their families," Majidi added. "To date, there are 152 million children in this situation. International organisations are waging a desperate fight to support these young people who are subjected to abuse and deprived of their human right to education."
"The message of Sun Children is that we are all responsible to these children, many of whom are extremely talented and all of whom are precious."