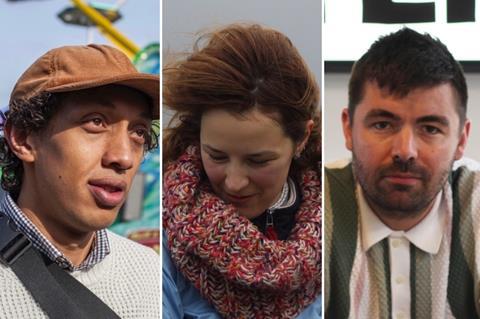 Mohamed Ahmed's Mothers, Rich Peppiatt's Kneecap and Adina Istrate's Vapours are the first recipients of the Mother Tongues Award, the development initiative backed by UK distributor Curzon, French sales agent Charades and creative agency Intermission Film.
The programme is focused on feature film projects by UK-based scriptwriters in which the dialogue is in a language other than English.
Mothers, a drama set in Sheffield's Somali community, picked up the top award of £10,000 ($13,900) to develop Ahmed's script. The Mother Tongues producing team will now work to attach a director to the project.
The story centres on a woman who is the pillar of her community and seemingly the perfect Somali wife. But when the glass ceiling that she has experienced is placed over her daughter's ambition of attending Cambridge University, she is forced to choose between the life she knows and her daughter's future.
Screenwriter Ahmed previously worked at the BBC before winning a script commission from Channel 4 for a screenplay about Hull's punk scene. He now works as a screenwriter and producer.
The Mother Tongues Award was launched last year by Shudder Films' Jack Tarling and Ardimages' Manon Ardisson and Chiara Ventura. The three projects were chosen from a shortlist of 10, selected from 112 entries.
Charades has first-look rights to sell the projects internationally and Curzon has first-look rights to release in the UK. Tarling and Ardisson previously produced Francis Lee's God's Own Country.
Further awards
Irish-language project Kneecap will also receive development funding for script revisions as well as a pre-production trailer to be supplied by Intermission Film. The Mother Tongues team will work with producer Trevor Birney of Fine Point Films to raise production finance. Northern Ireland Screen has also boarded the project.
The latest project from writer-director Peppiatt is about the controversial Irish-language band Kneecap, who are also attached to play themselves. Peppiatt previously made tabloid exposé One Rogue Reporter, which played at Sheffield Doc/Fest in 2014, which producer Birney is known for award-winning documentaries Bobby Sands: 66 Days and Mea Maxima Culpa: Silence In The House Of God.
The third project is Vapours, a thriller set in the UK's Romanian community, written and directed by Istrate. The project will receive funding to develop a longer treatment based on Istrate's initial outline, in which an unassuming motel has been transformed into an underground operation where people leave their old identities behind and start over in an anonymous, off-the-grid world.
Istrate has previously been supported by Film London, the Venice Biennale Cinema College, Wellcome Trust and Berlinale Talents among others. Her debut documentary feature, 512 Hours, premiered on Sky Arts.
All three projects will be produced by the Mother Tongues team, which said: "We hope that the scheme and its incredibly positive reception within the industry will encourage more producers and financiers to invest in more foreign language projects."