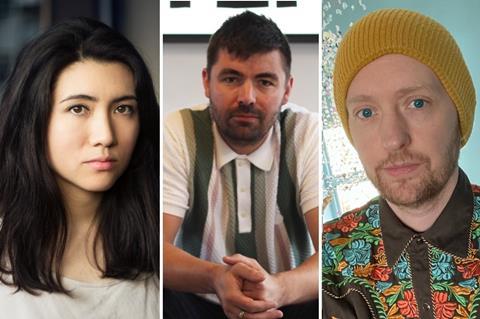 The Mother Tongues Award, a new development initiative backed by UK distributor Curzon and French sales agent Charades, has unveiled its inaugural shortlist and secured further support from creative agency Intermission Film.
The award, which is focused on feature film projects by UK-based filmmakers in which the dialogue is in a language other than English, has selected a shortlist of 10 projects from 112 entries that spanned 47 languages and dialects. All will attend a workshop and subsequently a panel interview for the development award of £10,000 ($13,900).
The Mother Tongues Award was launched last year by Shudder Films' Jack Tarling and Ardimages' Manon Ardisson and Chiara Ventura. Charades will have first-look rights to sell the projects internationally and Curzon will have first-look rights to release in the UK. Tarling and Ardisson previously produced Francis Lee's God's Own Country.
Scroll down for full shortlist
The selected projects feature dialogue that ranges from Punjabi, Irish and Somali to Persian, Spanish, and Welsh.
The Lambeth Worm is a Cantonese-language feature from genre writer Bec Boey, which was scripted in development with Joy Gharoro-Akpojotor, a Screen Star of Tomorrow who produced hit UK film Blue Story. It centres on two people who find a worm in their salad and wash it down the sink, but as the creature takes up residence in the pipes, a hostility spreads amongst the tenants of their block of flats. Boey's previous credits include web series Jade Dragon.
Another Screen Star of Tomorrow in the shortlist is Benjamin Bee, who has teamed with actor, writer and producer Kim Tserkezie on a Greek-language project titled Thena And Sofia. The dramatic comedy, which also includes British Sign Language, centres on a Greek mother and daughter who are forced to confront each other's life changing decisions.
Also shortlisted is Irish-language project Kneecap, from writer/director Rich Peppiatt, whose British tabloid exposé One Rogue Reporter played at Sheffield Doc/Fest in 2014. His latest project centres on the story of three Irish rappers.
Kneecap has been written in in development with Trevor Birney of Fine Point Films, producer of award-winning documentaries including Bobby Sands: 66 Days and Mea Maxima Culpa: Silence In The House Of God.
The selected projects also include Persian-language drama Saba And The Sun, from writer/director Fateme Ahmadi, who was BIFA-nominated for short Bitter Sea and saw her 2018 short Leila's Blues premiere in Directors' Fortnight at Cannes. Her debut feature follows a British-Iranian woman who takes her mother-in-law, who suffers from dementia, on an imaginary pilgrimage to a tree in Iran that grants wishes.
Intermission on board
Intermission Film's involvement in the initiative will either give more support to the winning project or extend the award beyond one development prize. The creative agency, which has offices in London, Amsterdam, Paris and New York, has developed campaigns for Saint Maud, A Fantastic Woman, I May Destroy You, and The Witcher among others.
In a joint statement, the organisers said they were impressed by the variety of projects that applied, "not only across language, but also in terms of styles and genres".
At least one development award of £10,000 will be made and producer development support will also be offered to the chosen projects with the aim of moving them into production.
Mother Tongues Award 2021 shortlist
The King Is In (Punjabi)
Scr: Ravi Mangat
Kneecap (Irish)
Dir/scr: Rich Peppiatt in development with Trevor Birney of Fine Point Films
The Lambeth Worm (Cantonese)
Scr: Bec Boey in development with Joy Gharoro-Akpojotor of Joi Productions
Mothers (Somali)
Scr: Mohamed Ahmed
Prima (Yoruba, Pidgin)
Scr: Yolanda Mercy
Queer As Folk Dancing (Welsh)
Scrs: Bethan Marlow, Daf James
Saba And The Sun (Persian)
Dir/scr: Fateme Ahmadi
Small Print (Spanish)
Dir/scr: Eric Romero
Thena And Sofia (Greek with BSL)
Scrs: Kim Tserkezie, Benjamin Bee
Vapours (Romanian)
Scr: Adina Istrate