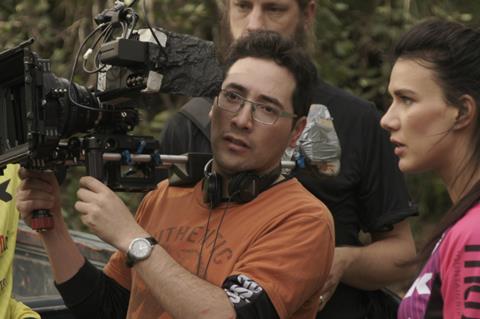 Patricio Valladares is lining up an untitled body horror feature that reunites him with Downhill and Nightworld writer Barry Keating.
Valladares, the Chilean genre director behind Hidden In The Woods, was in Buenos Aires for the Ventana Sur market at the start of the month, where his Robert Englund horror-thriller Nightworld played in Blood Window screenings.
The untitled project is described by the filmmaker as a cross between Species meets Xtro, Lost and The X-Files.
The story centres on a couple travelling in the mountains where the man proposes to his love before she is snatched away in an alien abduction.
When she returns 10 minutes later, she is pregnant and thirsts for blood and sex. Her fiancé takes her to a hospital where she kills the doctor, kills a truck driver and goes on the run.
Francisco Inostroza, Valladares' collaborator on Hidden In The Woods, will produce with Loris Curci, who is a producer on Nightworld.
Valladares intends to shoot the project in the south of Chile and will commence casting in 2018 once the screenplay is completed.
The filmmaker discussed the project in Ventana Sur with potential financing partners and sales agents.
VMI is the sales agent on Nightworld and Gravitas Ventures holds US distribution rights.