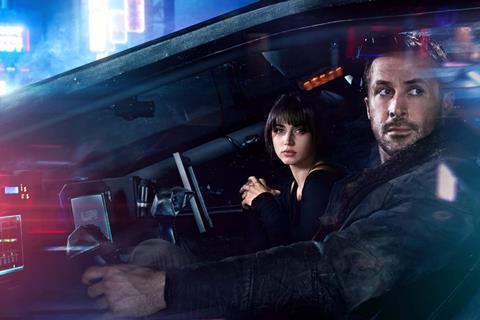 After a couple of robust weeks led by National Day blockbusters, last week's box office continued to shrink and dropped 12% week-on-week, hitting the lowest point in the month of October.
Geostorm dethroned Kingsman: The Gold Circle, opening top at the Chinese box office in the week of Oct 23-29. Warner Bros' global warming catastrophe film took $32.1m over its three-day weekend, more than doubled the dismal $13.7m from its North American debut two weekends ago.
Kingsman: The Gold Circle dropped to second position after sitting atop for only one week. Fox's action sequel added $22.1m for $59.9m after 10 days, closing up the gap with its predecessor Kingsman: The Secret Service which grossed $72.7m (based on current exchange rate) in 2015.
The only local film in the top five, National Day champion Never Say Die, added $12.5m for $303.8m after 30 days. It is currently the third grossing film overall this year, after Wolf Warrior 2 and Furious 8, and the fourth highest grossing local film ever, after Wolf Warrior 2, The Mermaid and Monster Hunt.
While China has saved Geostorm from its disappointing North American box office, the same can't be said of Sony's Blade Runner 2049. The two sci-fi films landed in China on the same day, but Blade Runner 2049 opened only in fourth place overall with $7.2m from its three-day opening weekend, which was less than a quarter of its North American debut in early October.
Denis Villenneuve's sci-fi sequel to Ridley Scott's 1982 classic opened in second place on Friday, but slid to the third on Saturday and further to the fourth on Sunday.
Thai blockbuster Bad Genius maintained well in fifth with $5.3m for $36.5m after 17 days. It is ahead of Hong Kong horror thriller Always Be With You which opened with $4.2m from its first three days. The latter is directed by Herman Yau, starring Louis Koo, Julian Cheung and Charlene Choi
The rest of the charts belonged to holdovers: City Of Rock on $3.9 on $62.6m after 31 days; Hold Your Hands on $3.2m for $11.1m after 17 days; Chasing The Dragon on $2.2m for $81.2m after 30 days; and animation The Son Of Bigfoot on $1.7m for $6m after 16 days.
Coming up next are Thor: Ragnarok, Eternal Wave and Love Education, all scheduled for Nov 3.