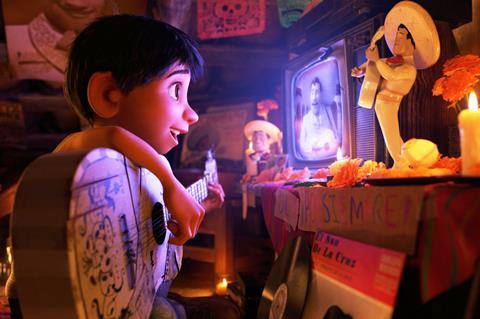 Animations continued to enchant the Chinese audiences in the week of Dec 4-10, with Coco on top again and Paddington 2 in tow.
Disney-Pixar's Coco maintained well at pole position in its third week with $49.1m. Despite the opening of Paddington 2, it still ranked No.1 over the weekend. With a 17-day total of $120.8m, it is now the 14th highest grossing film this year. It is also on course to beat Despicable Me 3 to become the highest grossing animation film this year.
With Coco's strong performance, Paddington 2 debuted in second place with $14.9 from its first three days. It has already surged past the final gross of its 2014's predecessor.
The Big Call came in a distant third with $5.4m from its first three days. Directed by Oxide Pang, one half of the Pang Brothers, the crime thriller about phone call scams stars Chen Xuedong and Gwei Lun Mei.
Warner Bros' Justice League dropped further to fourth with $4.3m for $97.9m after 24 days. Currently the biggest DC Entertainment's film in China, it has overtaken Marvel Studios' Guardians Of The Galaxy Vol. 2.
A third animation in the weekly top 10 was Loving Vincent, the hand-painted animation by Hugh Welchman and Dorota Kobiela which grossed $4.1m from its first three days. It was followed by underwater survival thriller 47 Meters Down which took $4m from its first three days.
Chinese auteur Feng Xiaogang's Youth took $3.5m from previews only; ahead of Eric Tsang's local comedy Kill Me Please on $3.3m for $7.4m after 10 days; Joe Wright's Darkest Hour on $2.4m for $4.4m after 10 days; and Yuen Woo Ping's The Thousand Faces Of Dunjia on $1.9m, also from previews only.
The Dreaming Man, Disney's first Chinese-language romance comedy starring Taiwan's Chen Bolin and The Mermaid's Jelly Lin, sat outside the weekly top 10.
As it gets closer to the busy year-end period, Chinese blockbuster films Youth and The Thousand Faces Of Dunjia will hit Chinese cinemas on Dec 15.