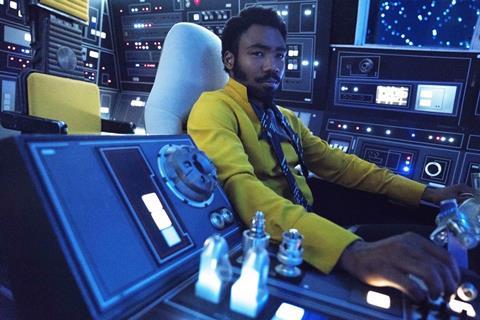 The Chinese box office shrank by about 37% week-on-week due to the lack of big new releases in the period of May 21-27. Holdover local comedy How Long Will I Love U climbed to the top, while Solo: A Star Wars Story was given the cold shoulder by the Chinese audiences.
How Long Will I Love U, which debuted in second place, moved to the top in its second week with $47.4m. Since it overtook Avengers: Infinity War on Monday, it has been staying top even after the opening of Solo: A Star Wars Story on Friday.
Produced by Lost In Hong Kong's Xu Zheng and starring Tong Liya And Lei Jiaying, the local love comedy fantasy is about a man and a woman living in the same apartment twenty years apart who cross paths when their timelines merge.
With a 10-day total of $86.9m, it is now the eighth highest grossing local film in 2018. Su Lun's feature debut is also the latest box office hit by a woman director, after Us And Them's Rene Liu and Forever Young's Li Fangfang.
Disney's Avengers: Infinity War dropped to second with $34.9m for $355.8m after 17 days. The third installment of the popular franchise which is already the top foreign film in 2018, has overtaken Transformers 4 to become the third highest grossing foreign film ever, after Furious 8 and Furious 7. It has also overtaken The Ex-File: The Return Of The Exes to become the tenth highest grossing film overall in Chinese history.
Emily Blunt's thriller A Quiet Place maintained well in third place with $11m for $29.8m after 10 days; narrowly ahead of Solo: A Star Wars Story.
Lucasfilm's latest spin-off saga opened softly with $10.5m from its three-day weekend debut, way below the first Star Wars spin-off Rogue One: A Star Wars Story.
Italian film Perfect Strangers came in fifth with $3.1m from its first three days. It was followed by holdovers: local bittersweet drama Us And Them on $1.2 for $225.5m after 30 days; biopic The Young Karl Marx on $1.1m for $2.4m after 23 days; Japanese drama Hirugao: Love Affairs In The Afternoon on $0.8m for $2.1m for 10 days; Dwayne "The Rock" Johnson's Rampage on $0.7m for $164.7m after 45 days; and Russian animation The Snow Queen 3: Fire And Ice on $0.3m for $12.3m after a lengthy 53 days.
More animations are scheduled this week, including Doraemon The Movie: Nobita's Treasure Island and Happy Little Submarine 2000 Leagues Under The Sea on Jun 1.