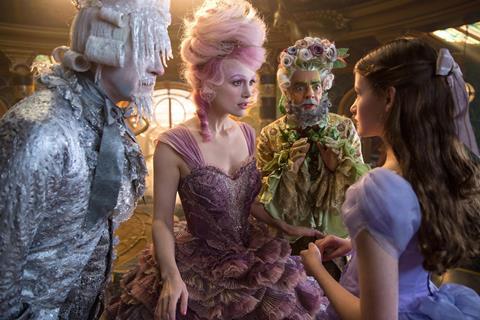 Ticket sales at the Chinese box office fell below the RMB500m ($72.67m) mark for the third week running, triggering the worst decline since September 2014.
The week from Oct 29 - Nov 4 saw the box office drop by 6.5% week-on-week. Additionally, the month of October has slumped by a massive 40% compared to the same period last year.
In such a quiet week, Disney's live action fairytale The Nutcracker And The Four Realms easily topped the chart but with an underwhelming $11.7m from its first three days.
Fox's sci-fi action reboot The Predator fell to second with $10m for $29.4m after 10 days. It is expected to surpass 2012's Prometheus, but probably not last year's Alien: Covenant.
The National Day champion, Hong Kong crime thriller Project Gutenberg, held steady in third with $7.5m from an extended run. Standing at $178.8m after 36 days, it has become the highest- grossing film for both Chow Yun Fat (surpassing From Vegas To Macau 3) and Aaron Kwok (surpassing The Monkey King 2).
Disaster film The Hurricane Heist opened in fourth with $6.9m, while Roger Spottiswoode's A Street Cat Named Bob debuted with $4.1m, both from their first three days. Local animation Crystal Sky Of Yesterday fell to sixth with $4m for $11.4m after 10 days.
Despite the star power of Ip Man's Donnie Yen, Raymond Yip's Iceman: The Time Traveller failed to draw in the crowd and opened with a disappointing $3.9m from its first three days.
It was followed by Indian drama Hichki about an aspiring teacher with Tourette's syndrome on $3.4m for $20.1m after 24 days; Lu Yue's kidnapping drama Lost, Found, starring Yao Chen and Ma Yili, on $2.5m for $39.9m after 31 days; and family fantasy The House With A Clock In Its Walls on $2.4m from its first four days.
After the summer blockbusters, the recent crop of titles (including some National Day releases) has mostly failed to impress the Chinese audiences. It remains to be seen if the next Hollywood tentpole Venom can help turn around the recent box office downturn when it opens on November 9.