Michael Bay's sequel opens with more than $120m, way ahead of US total.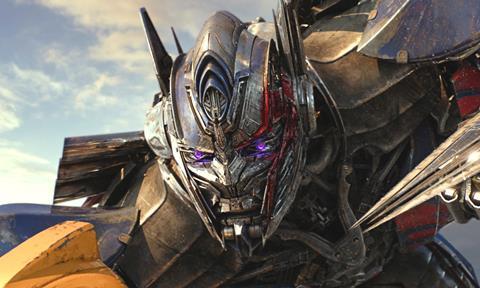 As widely expected, Paramount's Transformers: The Last Knight easily topped the Chinese box office with a whopping $124.41m from its first three days. This made China the biggest debut worldwide.
In comparison, North America trailed behind with $45.3m from the same three-day weekend and $69.1m from its first five days since its Wednesday opening.
Back in China, it has bested Transformers: Age Of Extinction's opening weekend in 2014, but was behind Furious 8.
Thanks to Transformers 5 which accounted for approximately 73% of the week's total box office, last week's box office surged approximately 70% week-on-week.
Fox's Alien: Covenant maintained in second position with $12.37m for $41.13m after 10 days. The sci-fi sequel has surpassed 2012's Prometheus, also directed by Ridley Scott.
After sitting atop the Chinese box office for two weeks, Universal's The Mummy fell to third place with $7.47m for $87.63m after 17 days. It was still far behind 2015's Mission: Impossible – Rouge Nation, also starring Tom Cruise.
Warner Bros' Wonder Woman dropped to the fourth with $4.35m for a 24-day total of $86.71m, which put it almost on par with another DC Comics, Batman v Superman: Dawn Of Justice.
India's surprise hit Dangal still held up well in fifth position with $2.93m for $185.57m after a lengthy 52 days; ahead of Disney's Pirates Of The Caribbean: Dead Men Tell No Tales, which added $2.86m for $170.46m after 31 days.
Zhang Yang's Paths Of The Soul opened in sixth place with $2.44m from its first six days. The release was limited but has achieved a high per-screen average.
The docu-drama, which premiered in Toronto in 2015, follows a group of Tibetan pilgrims as they embark on a 1,200-mile journey on foot to Lhasa. Veteran director Zhang Yang's previous credits include Shower, Sunflower and Getting Home.
77 Heartbreaks followed in seventh with $2.08m from its first three days. The Hong Kong relationship drama reunites director Herman Yau with his Sara star Charlene Choi. It is the second film by the prolific director to hit Chinese cinemas in two months, following action hit Shock Wave.
Rounding out the weekly chart were local documentary Return To The Wolves on $1.56m for $3.42m after 10 days and Oscar-nominated Australian drama Lion on $1.42m from its first four days.
Following the onslaught from a string of Hollywood blockbusters, the Chinese box office finally gets a breather with no Hollywood film set to open this week.
Although Transformers 5 is expected to retain the No.1 spot, several high-profile Chinese films are ready to battle it out. These include Reset, Wished (both opening on June 29) and Our Time Will Come (July 1).