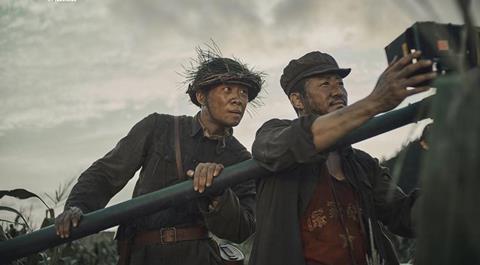 Local war epic Sacrifice topped the box office on its opening weekend (October 23-25) in China, according to figures from theatrical consultancy Artisan Gateway, grossing $53m in three days.
Produced to celebrate the 70th anniversary of China's entry into the Korean War (1950-53), the film focuses on the attempts of Chinese soldiers attempting to repair a bridge while under constant bombardment from US artillery and planes.
The film is co-directed by three of China's biggest commercial filmmakers – Frant Gwo (The Wandering Earth), Guan Hu (The Eight Hundred) and Lu Yang (Brotherhood Of Blades) – and stars Wu Jing (Wolf Warrior 2) and Zhang Yi (The Eight Hundred). It started filming in August, when Chinese authorities allowed production to start up again post-Covid, with special effects work taking place at the same time as principal photography.
Patriotic omnibus My People, My Homeland came in second over the weekend, grossing $11.2m for a cumulative total of $388.7m, followed by animation Jiang Ziya: Legend Of Deification, which has reached a cume of $233.3m after adding $2.8m over the weekend.
Two other locally-produced holdovers filled out the top five – comedy Coffee Or Tea crossed $2.5m for a cume of $40.6m and romantic drama The Story Of Xi Bao took $2.4m for a cume of $14.3m.
US-China animation Over The Moon, co-produced by Shanghai-based Pearl Studios and Netflix, also opened over the weekend, but failed to make much impact grossing $582,000 in its opening three days.
This weekend (October 30) sees the release of Japanese animation Digimon Adventure: Last Evolution Kizuna and several smaller local releases. Another Japanese animated feature, Mamoru Hosoda's Mirai, which premiered in Cannes Directors Fortnight in 2018, is scheduled to open on November 6 along with Chinese arthouse title Back To The Wharf, directed by Li Xiaofeng. Millennium Films' Hellboy is scheduled to open on Monday, November 9.
The following weekend (November 13) will see the opening of Parwaaz Hai Junoon, the first Pakistani feature to be released in China for 40 years. Released in its home country in 2018, the film about the Pakistan air force is being released ahead of the 70th anniversary of the establishment of diplomatic relations between China and Pakistan.
Further Chinese arthouse titles have been scheduled for release in coming weeks, including Pema Tseden's Balloon on November 20 and Zhang Yimou's One Second on November 27.