Despicable Me 3 and Wu Kong hit $140m and $100m respectively.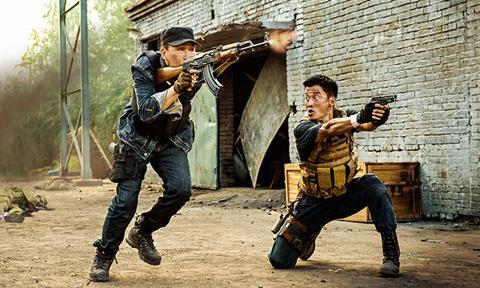 An eagerly-awaited Chinese film has finally set the Chinese summer box office on fire. Wolf Warriors 2 opened to a record-smashing weekend, seizing $142.17m from its four-day opening weekend.
Directed by and starring Wu Jing, the action-packed film struck an opening bigger than any of this year's Chinese New Year hits and was only second to The Fate Of The Furious this year.
Opening at 8pm on Thursday, it reached $15m within four hours on its first day. Its box office continued to expand throughout the weekend, with an unusual bigger Sunday than Saturday. Today, it hit another milestone as the fastest local film to cross $150m, breaking the record held by The Mermaid. It's widely expected to earn at least $300m, surpassing Kung Fu Yoga as the biggest local film this year.
Mainly thanks to its extraordinary performance, last week's box office surged by approximately 90% week-on-week.
In second place, The Founding Of An Army opened with $28.99m from its first four days. Directed by Andrew Lau (of Infernal Affairs fame) and featuring an ensemble star-studded cast, the film marks the 90th anniversary of the founding of the People's Liberation Army. It's the third part of the trilogy that began with 2009's The Founding Of A Republic and 2011's The Founding Of A Party.
Brotherhood Of Blades 2 was pushed to third place with $11.30m for $37.10m after 12 days. The period martial arts film was in pole position for eight days until the opening of the two new releases above.
Former champion Despicable Me 3 slid further to the fourth with $9.57m, bringing its 24-day total to $143.19m. The Universal and Illumination animation has climbed higher to become the third highest grossing animation, surpassing Monkey King: Hero Is Back. Currently the eighth highest grossing non-Chinese film this year, it could be the biggest animation this year.
After retaining the weekly crown for two weeks, Wu Kong fell to the fifth with $8.99m for $100m after 18 days. The local fantasy action adventure has also dropped one place to be the sixth highest grossing Chinese film this year after the opening of Wolf Warriors 2.
More Chinese holdovers follow: comedy Father And Son on $5.61m for $17.83m after 10 days and romance comedy Our Shining Girls on $3.14m for $7.94m after 11 days.
Three local animations round up the weekly top 10: Dear Tutu on $3.07m and Tofu on $1.77m, both from their first three days, while Da Hu Fa on $1.67m for $12.42m after 18 days.
Like July, August will see the opening of more Chinese films. Next up are Once Upon A Time (Aug 3) and Soul On A String (Aug 4).