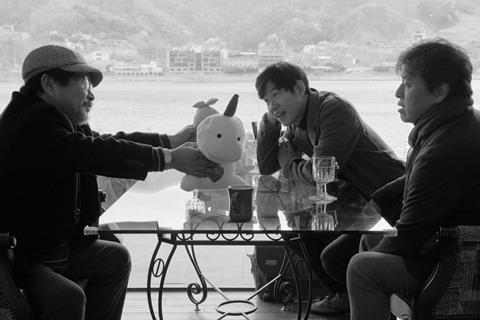 A Korean film is streaming on a mainland China OTT site for the first time in six years, South Korea's presidential office announced in Seoul today (November 22).
Chinese streaming platform Tencent Video started streaming Hong Sang-soo's Hotel By The River - the auteur's award-winning film from 2018 – earlier this month.
It marks the first South Korean film to be made available to stream in China since Beijing effectively banned South Korean content after the US anti-ballistic missile system THAAD (Terminal High Altitude Area Defense) was stationed in the peninsular nation.
It follows a meeting between South Korean president Yoon Suk-yeol and Chinese president Xi Jinping, who had their first face-to-face meeting in Bali during the G20 summit last week. Both sides reportedly agreed to improve cooperative ties with Yoon stressing the need for promoting cultural and person-to-person exchanges. His press secretary Kim Eun-hye today said the move at Tencent seemed to be in response to these talks.
Last December, Jung Se-kyo's 2020 comedy Oh! My Gran, starring Na Moon-hee, was the first South Korean film to screen in mainland China theatres since the freeze on Korean content. No further films from the country have since screened in Chinese cinemas.
However, the addition of Hotel By The River to an OTT platform has prompted speculation and hopes of a further thawing on the freeze. The film centres on a wistful old poet who, thinking he is about to die, summons his two estranged sons to a riverside hotel. It premiered at Locarno where lead Ki Joo-bong won the Golden Leopard for best actor and went on to screen at Toronto and China's Pingyao International Film Festival.
Despite the addition, commentators have taken a dim view of the likelihood that more socially-conscious content such as Netflix's Squid Game or Palme d'or winner Parasite - which was pulled from China's First International Film Festival in 2019 for "technical reasons" after being selected as the closing film – will become available any time soon.