EXCLUSIVE: Investors say their contribution to period drama The Moon And The Sun is China's biggest financial contribution to a non-studio movie produced outside mainland China. [Exclusive first image]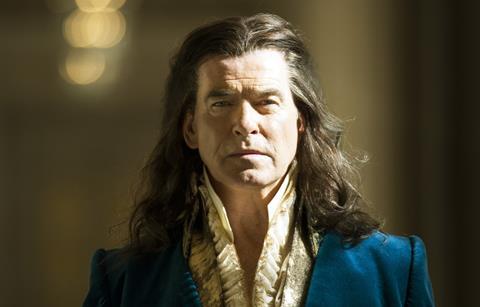 Kylin Films' investment in The Moon And The Sun, currently being filmed in Melbourne with Pierce Brosnan, is China's biggest financial contribution to a non-studio movie produced outside Mainland China.
Speaking on behalf of James Pang, who owns 75% of the private film production and finance company, Leo Shi Young said: "The total investment (budget) is US$40.5m and we, Kylin Films, put in $20.5m."
He said an additional $3m has come from Evergrande Pictures, an unrelated Chinese player.
Director Sean McNamara's The Moon And The Sun is based on Vanda McIntrye's novel of the same name and is set in the court of Louis XIV of France in 1682.
It is about a king (Pierce Brosnan), whose quest for immortality leads him to try and capture the life force of a mermaid (Fan Bingbing), but complications arise when his illegitimate daughter Marie-Josephe (Kaya Scodelario) is brought to his court.
Bill Mechanic, under his Pandemonium Films banner, is the main driver behind the adult fable. The former CEO of Fox Filmed Entertainment is producing alongside Pang. The other producers are Bliss Media's Wei Han, who acted as a conduit between Mechanic and his Chinese partners, and Lightstream Pictures' Paul Currie, an LA-based Australian.
Currie convinced Mechanic to base The Moon And The Sun in Australia by securing a 30% rebate on the Australian expenditure. He did this by securing finance from a fund in place to attract big-budget movies and he will also claim the 16.5% location rebate.
"The rebates are great and Australia has expert crew and amazing visual effects and it is a country that loves challenging films and is not getting enough films," said Currie. "There's big films made by Baz (Luhrmanm) and George (Miller), and there's a lot of (modest-budget) Australian films … but what I think Australia can also do well is mid-sized genre films in the $10-30m range that are technically challenging. That was my pitch to him."
The major Australian component of the shoot started on April 23 in Victoria, which won out over New South Wales and Queensland for monetary and logistical reasons. Filming is based at Docklands Studios Melbourne and other locations include Melbourne University, Bushrangers Bay and Werribee Mansion.
Prior to this, 11 days of filming took place in France. Currie understands that the film got unprecedented access to the Palace of Versailles because management believe the film's fantasy elements have the potential to attract younger people to the venue.
Currie sees the core audience as being "women of all ages" and the film as "somewhere between Twilight and Alice In Wonderland".
All post is being done in Australia and is likely to run through until Feb 2015. Good Universe is handling international sales and Focus Features has US rights.
Mechanic and Currie hope to make more films with their Chinese partners including a World War 2 drama and the contemporary thriller 2:22, which several years ago won investment approval from Screen Australia.