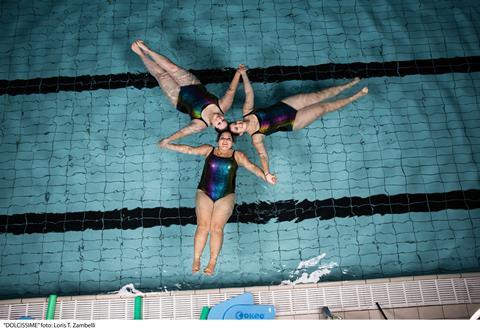 Midway through the market, Ida Martins' Media Luna has found a Chinese buyer for The Sweeties, its feelgood Italian comedy drama about body shape and synchronised swimming.
The film has gone to Phoenix Entertainment Group. The deal was negotiated by Martins and Ruby Li of Phoenix.
Media Luna has kicked off sales at AFM on UK post-apocalyptic drama Nuclear directed by Catherine Linstrum and starring Emilia Jones, Sienna Guillory and George MacKay. The film premiered last month at Warsaw Film Festival.
The Cologne-based sales outfit has also taken on international rights for dark crime comedy Dutch Hallali by Eché Janga, about a mayor who discovers his town is rife with drug smugglers; underwater thriller Submersible by director Alfredo León León, which stars rising Colombian actress Natalia Reyes (Terminator: Dark Fate); and Papi, a new feature from the Dominican Republic which marks the directorial debut of Noelia Quintero Herencia. Media Luna has also boarded Udo Kier horror movie Skin Walker, the directorial debut of Christian Neuman.
The company has closed deals on its Holocaust survival story My Name Is Sara, produced in association with the USC Shoah Foundation and due to be released in the US by Strand Releasing. Media Luna has now finalised all-rights deals for Latin America to A2 and Australia to JIFF.
Media Luna is one of the oldest independent sales outfits in the marketplace, originally founded by Martins in 1991.